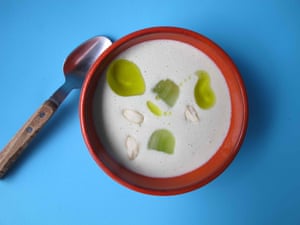 (Serves 4)
220g blanched almonds
100g slightly stale white bread (crusts off)
A little milk or almond milk (optional)
600ml ice-cold water
4 smallish garlic cloves, roughly chopped, green sprout removed if necessary
1/2 cucumber, peeled and roughly chopped
200ml extra virgin olive oil, plus a little extra to garnish
2 tbsp sherry vinegar
8 grapes
Toast the almonds in a dry pan until just starting to colour, then tip out and allow to cool. Set 20g aside as garnish. Soak the bread in milk for 10 minutes if using, or cold water if not.
Put the remaining almonds into a blender or food processor. Squeeze out the bread and roughly tear into the blender. Add a dash of the water and whizz for a minute or so until fairly finely ground. Then, with the motor running, slowly add the water, followed by the garlic, cucumber, oil and vinegar. Whizz until smooth, then season to taste. Sieve if desired, and then chill for at least 2 hours.
Divide between shallow bowls. Quarter and seed the grapes if necessary, roughly chop the remaining almonds, then arrange on top of the soup and finish with a final drizzle of oil.