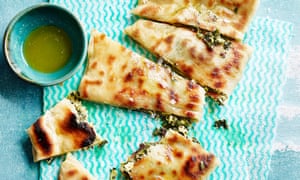 Possibly the most popular street food in Turkey is gözleme, a wafer-thin flatbread, achieved by rolling each one out on a floured surface as thinly as possible. A filling is added to half of the disc, it is folded to form a crescent, then baked on the hot, slightly domed iron surface, brushed with butter and folded into a fan shape. Eat them straight away if possible.
Makes 4
For the flatbread dough
strong bread flour 500g, plus extra for dusting
fast-acting yeast 7g sachet
sugar a pinch
salt 10g
lukewarm water 275ml
olive oil 60ml, plus extra for greasing
For the gözleme
flatbread dough ⅔ quantity (see above)
olive oil for greasing and brushing
plain flour for dusting
butter to serve
For the filling
baby spinach 250g, washed
feta cheese 200g, crumbled
spring onions 4, finely sliced
chilli flakes ½ tsp
To make the flatbread dough, sift the flour into a large bowl and add the yeast, sugar and salt. Make a well in the centre and add the water and olive oil. Bring together into a rough dough. Knead on a floured work surface, or in a food mixer with a dough hook, for about 1 minutes until you have a soft, elastic dough. Place in a clean, lightly oiled bowl and cover with clingfilm. Leave to rise for 30-60 minutes until doubled in bulk.
To make the gözleme filling, chop the baby spinach and mix in a bowl with the feta, spring onions and chilli flakes.
When ready, punch the dough down and knead again until smooth, then divide into 4 equal pieces. Roll each one out on a floured surface until you have a thin sheet just 2mm thick and about 25cm in diameter. Spread a quarter of the filling on to half of each sheet of dough, then fold over into a semi-circle. Brush one side of each gözleme with olive oil.
Heat a large non-stick frying pan or griddle. Cook each one for 2-3 minutes, then brush with olive oil, turn over and cook on the other side for another 2-3 minutes. Serve immediately, with butter melting over.