Filo can be used to make a simple tart with any number of fillings such as tomato tart with french beans and rosemary. Change the herb to suit the filling – I like thyme with courgettes or sage with butternut squash.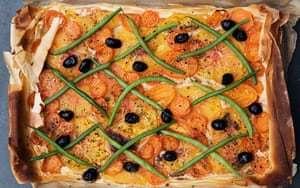 The herb butter brushed between the layers of filo is what makes this worth the trouble. Brush it on generously between each leaf of pastry. The crisp beans are there as a contrast to the soft, sweet-sharp tomato, but you could omit them or ring the changes with any other blanched vegetable.
butter 80g
rosemary needles 1 tbsp
garlic 1 clove
tomatoes 1kg, mixed sizes and varieties
filo pastry sheets 200g
black stoned olives about 14
olive oil 2 tbsp
French beans 100g
Melt the butter in a small pan. Finely chop the rosemary and finely crush the garlic and stir in to the melted butter then set aside. Set the oven at 220C/gas mark 7.
Thinly slice the larger tomatoes. Halve the cherry tomatoes. Line a baking sheet with parchment. Place a sheet of the pastry on the baking sheet and brush it with some of the rosemary and garlic butter, then place another on top and brush it likewise. Be generous. Continue until you have used every sheet, finishing with a layer of butter.
Place the tomatoes over the pastry in a single layer. Then dot with the olives, trickle with olive oil and bake for 20-25 minutes, checking regularly and removing when the pastry is crisp. While the tart is cooking, boil the beans, topped and tailed, for 4 minutes in deep, lightly salted water, then drain.
As soon as the tart is ready, remove it from the oven, place the crisp, cooked French beans on top and cut it into large squares.