Felicity Cloake has a really useful article series in the Guardian where she reviews (and usefully concludes) on recipes for traditional  items.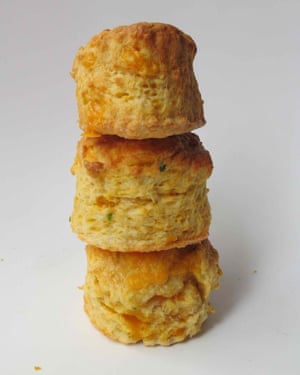 (Makes about 12)
450g plain flour (or if using self-raising flour omit the baking powder)
6 tsp baking powder
1 tsp salt
1 tbsp English mustard powder
100g cold butter
250g strong hard cheese like mature red leicester or cheddar
120ml cold milk
120ml cold water
1 egg, beaten with a splash of milk
Heat the oven to 220C. Put the flour, baking powder, salt and mustard powder into a large mixing bowl and whisk together until smooth and well combined.
Grate in the butter, then rub it in with your fingertips until it looks like wet sand.
Finely grate in 225g cheese, add the chives, and then stir to combine. Mix in the milk and water until the dough just comes away from the edge of the bowl; don't handle it any more than is necessary. Tip on to a very lightly floured surface and flatten into a rectangle about 2.5cm high. Cut out with a fluted cutter (about 6cm wide for 12 scones), reshaping as necessary while handling the dough as little as possible.
Put on a baking tray and brush the egg and milk mixture. Grate the remaining cheese over the top and bake for about 12 minutes until golden. Allow to cool slightly on a rack before splitting open.