Agents:
Trailfinders – always book the flights through these people and usually the hotels etc. This time they weren't competitive for the latter but did well organising the flights. BA have a relationship with COMAIR who fly between Johnannesburg & Windhoek so it makes sense to fly with them.
NatureSafaris – a local Namibia company who took care of us. The logistics of the trip were excellent from meeting us at the airport with the jeep, to very polished transfers throughout the trip.
Hotels/Lodges:
Hotel Heinitzberg, Windhoek (http://www.heinitzburg.com/)
The capital is small and not very exciting but this is where most people arrive & depart the country. Although we flirted with the idea of a chi-chi boutique hotel, the Heinitzberg turned out to be ideal for us. It's a very small and not typical Relais and Chateaux (ie. lower your standards somewhat) with good sized rooms in two floors around a small courtyard. The reception/restaurant and pool area are to the side with a great view over the not very exciting town (300,000 people). It was good to have a "proper" hotel where everything works, arrives on time with good service and isn't too complicated. At the same time, we found it to be quite relaxed, not too fromal or stuffy for a family with teenagers.
Erongo Wilderness Lodge (http://www.erongowilderness-namibia.com/)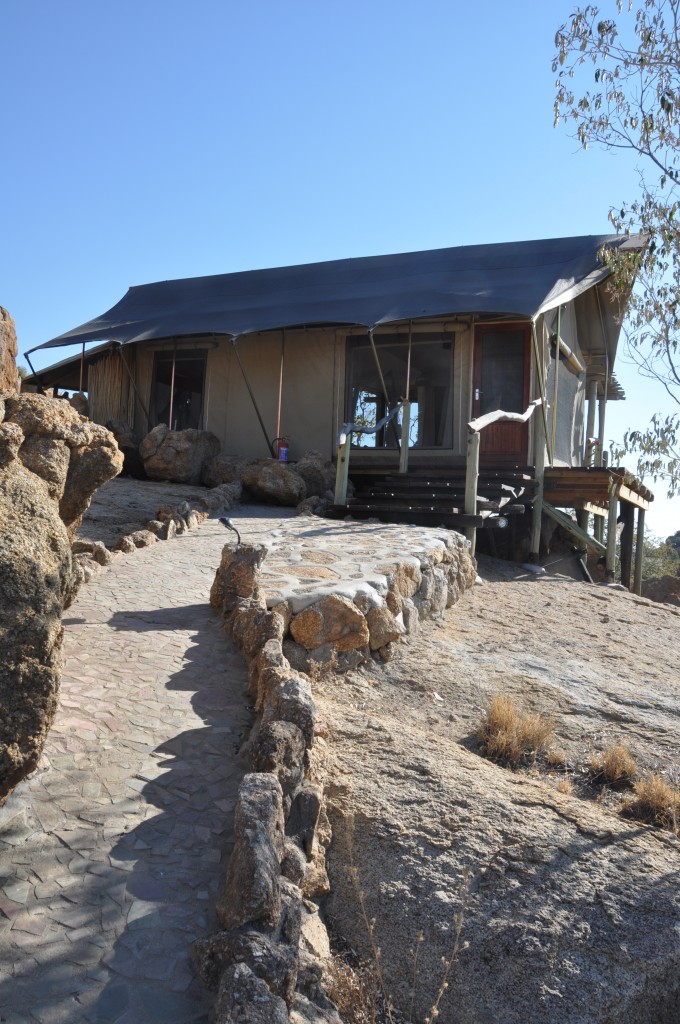 Just a couple of hours drive outside Windhoek, this lodge was our favourite over the trip despite the lack of big animals and adventures. What it does have is excellent relaxation capacity with walking trails and excellent guides. It also has some wonderful bushamen cave paintings (Paula's Cave) which is a great site for a sundowner. It also has lovely tents, great food and service at the restaurant, a pool (too cold in Winter even if you are a hardy European). We took a couple of days here to really chill out and settle into the rhythyms of Namibia before getting on with the rest of our tour.
Etosha Aoba Lodge, Onguma Private Game Reserve (http://www.etosha-aoba-lodge.com/)
The warm welcome, best food of the trip and Etosha on your doorstop made this lodge one f our best experiences. It helped that the accomodation was stone rather than tents for a change and came with an air-con/heating unit.
Okonjima Bush Camp (http://www.okonjima.com/content/The_Luxury_Bush_Camp)
Good accomodation and food, with a warm welcome and good service but really it's all about the cats! The Bush Camp is much smaller and the experience better for the increased personal attention. Be sure to arrive in time for the afternoon drive at 3.30pm as they alternate leopard and cheetah drives afternoon/morning or stay at least two nights to allow for all activities. Visiting the Africat Foundation was the highlight of the entire trip for my teenage daughter.
Wolwedans Dunes Camp (http://www.wolwedans.com/lodges-camps/dune-camp/)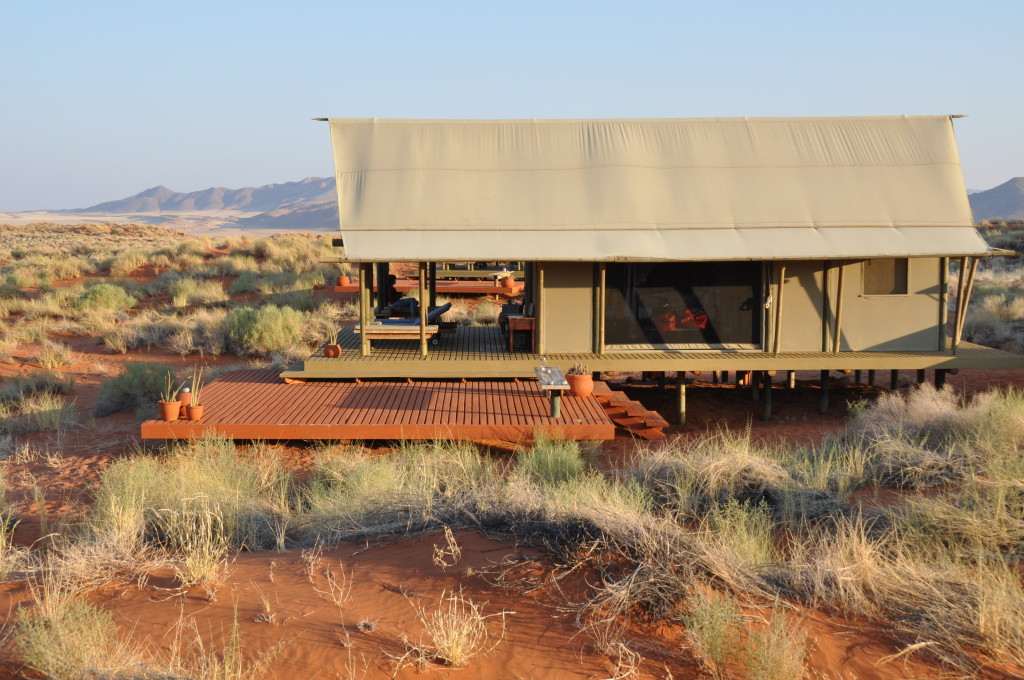 This is the oldest and smallest of the Wolwedans Camps and (very relatively speaking) the most basic ie. you will get sand in your shoes.
Opinion split between whether this should be at the beginning or end of a tour of Namibia but we decided that a relaxing end to our trip was right for us. We flew down (6 seater plane – not for the nervous) to avoid the 5-6 hour drive required otherwise. The desert is beautiful but you need to really chill out to enjoy it. There is big game around but it isn't the point of the place. Relax and enjoy the view.
Activities/Places:
Desert Elephant Trekking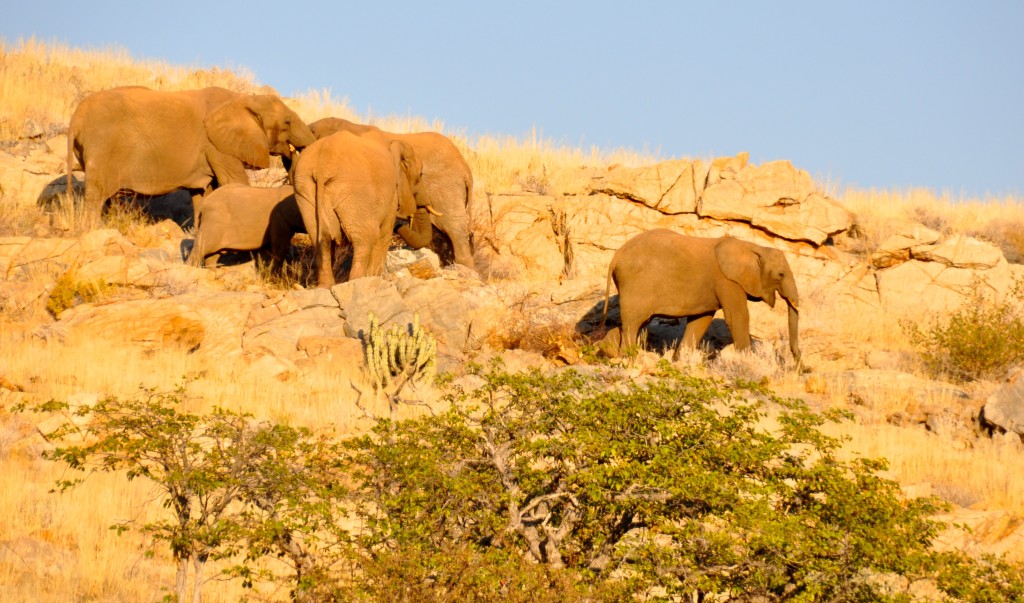 We thought our lodge was rather lacking in charm, but the trip to find desert adapted elephant was wonderful and not to be missed. In Winter, they are relatively easy to find (we found Rosie's family of around 20 elephants within the hour) but there are other animals to track and wonderful scenery to enjoy. It is cold in Winter so take a fresh hot water bottle with you to stuff under the blanket on your lap as you drive along!
Twfelfontain Bushmen Engravings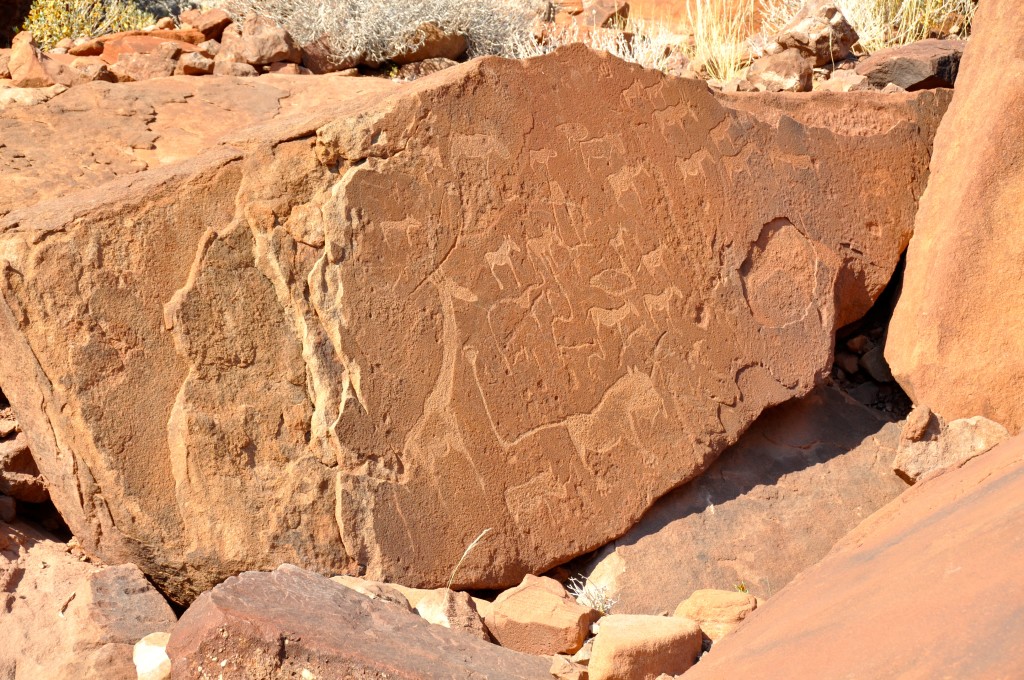 This is the only Namibian World Heritage Site and with engravings of over 6000 years old, well worth a visit. Self drive is best as the guides at the site are very well informed and good at their job. If possible view some of the paintings located along your trip (we saw Paula's Cave at Erorngo) to add comparative value.
Ongava Private Game  Reserve (http://www.ongava.com/)
We stayed at a camp on this reserve and can recommend the reserve but not the individual camp. We found the reserve wonderful, with rhino, lion and lots of game at the waterholes, excellent quality guides and a good warm welcome. Wherever you end up staying, it can be very cold so do ask for exrta blankets before going to bed. Although they can't control the temperature (very cold) the tent at our camp was poorly put together with misfitting windows that made everything a bit worse. And the wind whipped through the open restaurant making for a freezing breakfast.
Etosha National Park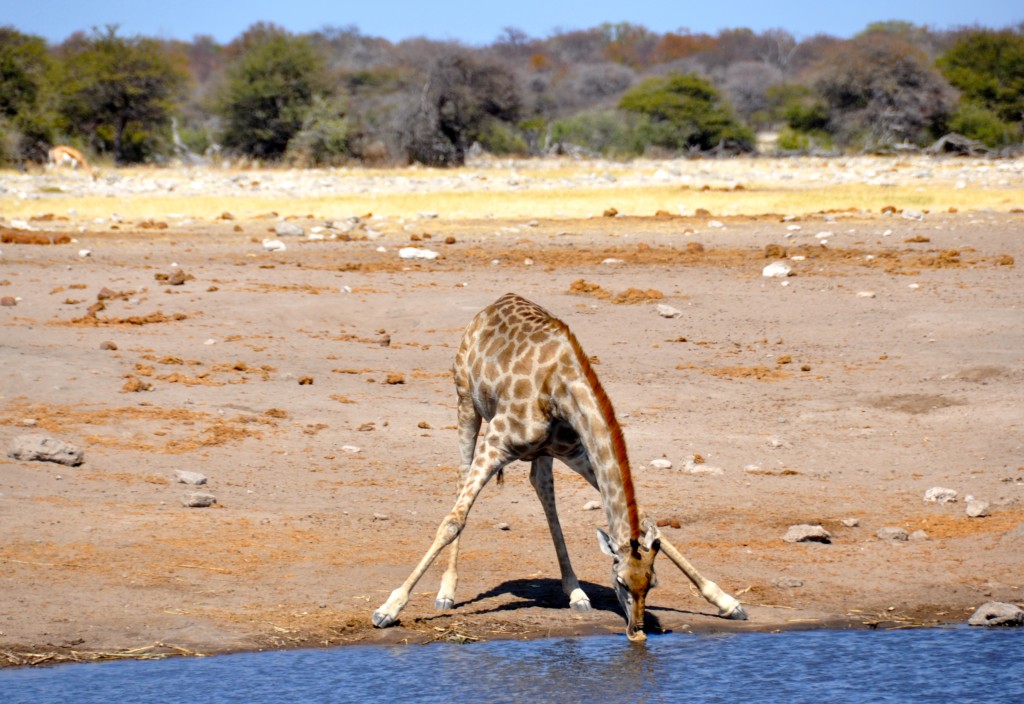 Unbelievably good for viewing animals on a self-drive, especially if you're willing to sit and wait at some of the better waterholes. We found Rietfontain and Chudop especially good, with  a cascade of animals following on from each other, families of elephants, giraffe, herds of zebra, springbok etc. It just went on and on. Get your lodge to pack a lunch and just settle down for some entertainment.
We did not find a guide necessary in Etosha, nor did there seem to be any great advantage to an early start in terms of seeing animals though obviously the light is better for scenic photography over the pan.
Leopard & Cheetah Tracking, Okonjima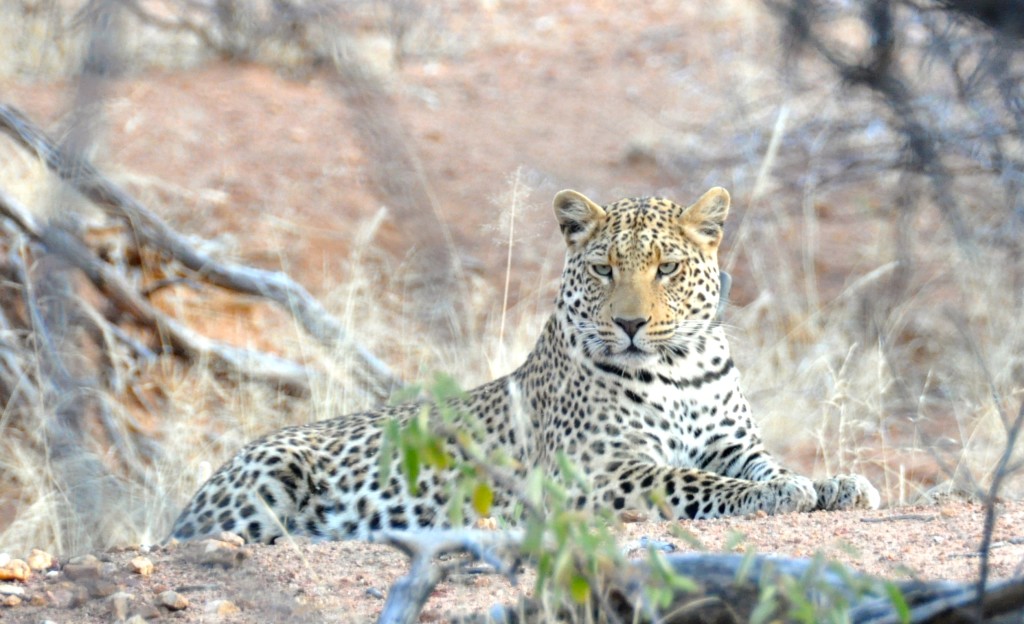 The cats have electronic collars and yet remain incredibly difficult to find and spot even when within a couple of metres of the jeep, in Winter when foliage is low. Their camouflage is just that good, as is their ability to outwait impatient tourists.
Despite all of this, and accepting that it isn't "real" Africa, this was one of the highlights of our visits to Namibia.
Sossusvlei Dunes & Dead Vlei
This experience is well-worth the journey south although we did fly in a very small 6 seater aircraft so my daughter might disagree.
The desert at Sossusvlei is a "proper" sand desert with beautiful red dunes rising high to the sky. The desert is the world's oldest and the dunes are the world's highest! We climbed dune 45which takes 30 minutes but you could also go up Big Daddy (2 hours to climb the whole thing or 1 hour taking the short cut) Dead Vlei lies at the foot of the latter, taller dune and you can run down the side in minutes to experience the very surreal Dead Vlei.
Our lodge here was the biggest we stayed at and too much of a culture shock for us to enjoy (a bit too package holiday). As always in Namibia, the personal service was good and the welcome warm.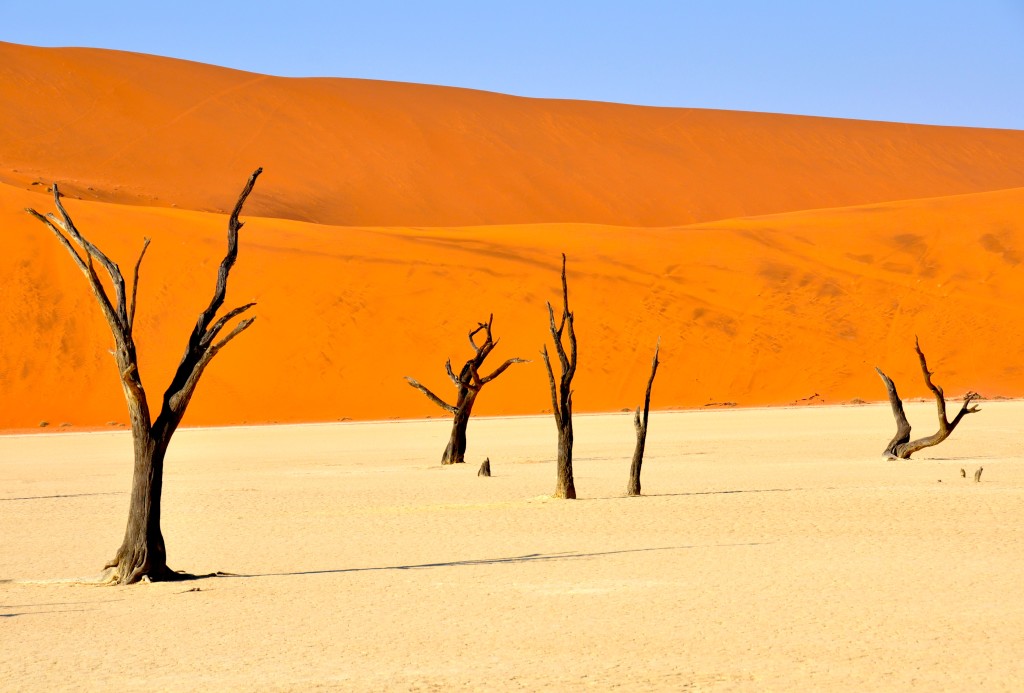 Namib-Naukluft Desert Drives
It's difficult to explain why the desert drives were so wonderful. You either love deserts or you don't.
The scenery is stark and beautiful, with colours changing with the light so quickly you can blink and miss them. This was the only place that I really enjoyed the ubiquitous sundowner drink, because sun set really did feel like something worth watching here.
There are no big animals to spot though you can get lucky. We saw 5 cheetahs ambling along the main C road north to Swapkopmund, caught up with them and had great sightings of the mother and younger cubs as they ran off road before stopping to check us out.