Make this with mushroom or tomato risotto as a filling and use griddled courgette (maybe red and yellow peppers) as the "case" as well as aubergine. It tastes like comfort food but looks like a proper centrepiece to a meal.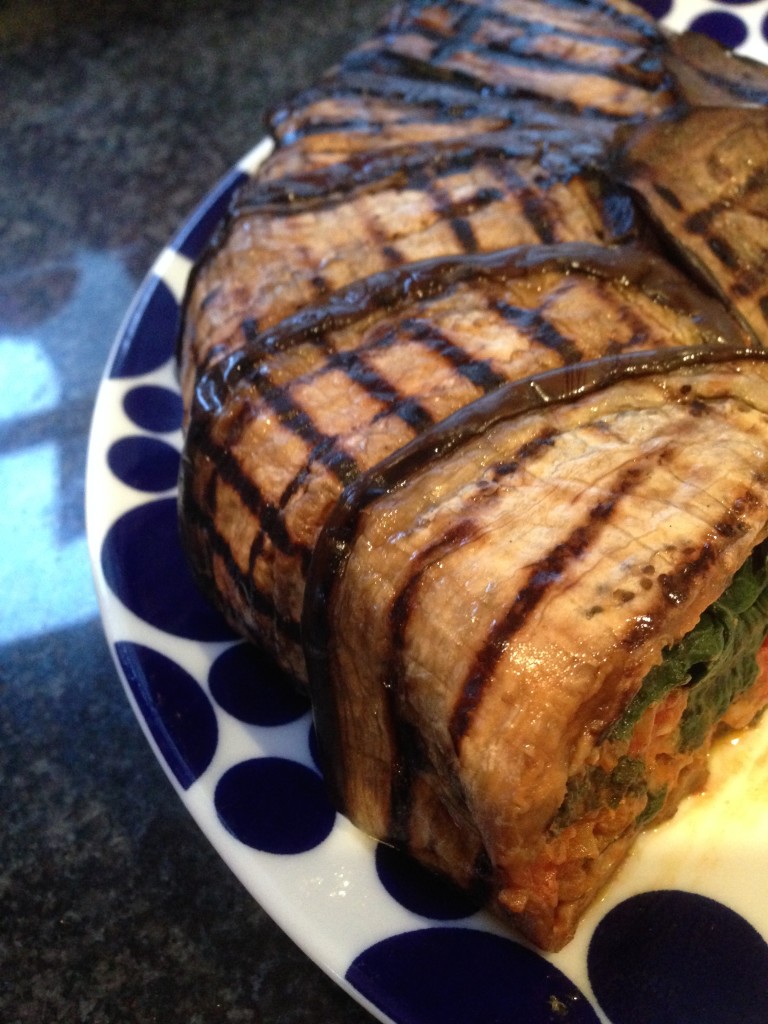 4-5 aubergines
1 cup or 150g rice (risotto or paella)
1tbsp thyme
1 onion diced
25g butter to saute
2 stock cubes, 1/2 pint boiled water
1 tin chopped tomatoes or passata
75g cheese grated, mozzarella or cheddar
2 tbsp pesto
Slice four aubergines along their length, and griddle until just cooked and marked.
Use the slices to line a springform cake tin that's been lined or greased leaving a little to hang over the edge of the tin.
Whilst the aubergine slices are cooking, make a tomato risotto for the filling:
Saute one small onion until soft. Add a good amount (about 1tbsp) of thyme. Take 1 cup of carnaroli or arborio rice (about 150g) and add to the pan and coat in the melted butter/onion mix.
Add about 1/2pint hot water with 2 stock cubes (or 1 pint stock, reduced down by half). Add 1 tin chopped tomatoes/passata and cook until risotto rice is soft but retains some bite. The filling will dry slightly as it cools – if it is too wet, the liquid will just run out of the cake tin.
Cook 500g spinach in the microwave and drain until all liquid is removed.
Layer the spinach at the bottom of the tin. Layer half of the risotto on top. Add a layer of mozzarella or cheddar. Think about adding some pesto dollops on top of the cheese layer.
Finish with the remaining risotto mixture. Wrap the aubergine around the rice using remaining slices to complete the "cake".
Bake in an oven at 180C for 30 minutes. Remove the cake and rest for 5 minutes. Turn out onto a plate, If necessary brush with melted butter.