1 pack filo pastry
25g butter, melted
Filling:
3 tbsp tomato puree
1 small jar pesto
1 tbsp olive oil
1 large onion, diced
400g spinach, cooked & drained
2 tbsp capers
2 tbsp black olives, pitted
400g cherry tomatoes, halved
600g feta cheese crumbled
200g cream chees (eg mascarpone)
1 egg yolk to glaze pastry
Preheat the oven to 200C
Fry the onion gently in the olive oil & combine with the cooked spinach.
Mix the crumbled feta with the mascarpone.
Working quickly, layer the filo pastry along a greased baking tray allowing the edges to hang over the side of the dish. Set aside 4 – 6 sheets for the top of the pie.
Mix the tomatoe puree & pesto.Spread this mixture in the bottom of the dish.
Then add the cooked spinach as the second layer. Top this with the capers, olives & chopped tomatoes.
Finally top with the crumbled feta cheese mixture.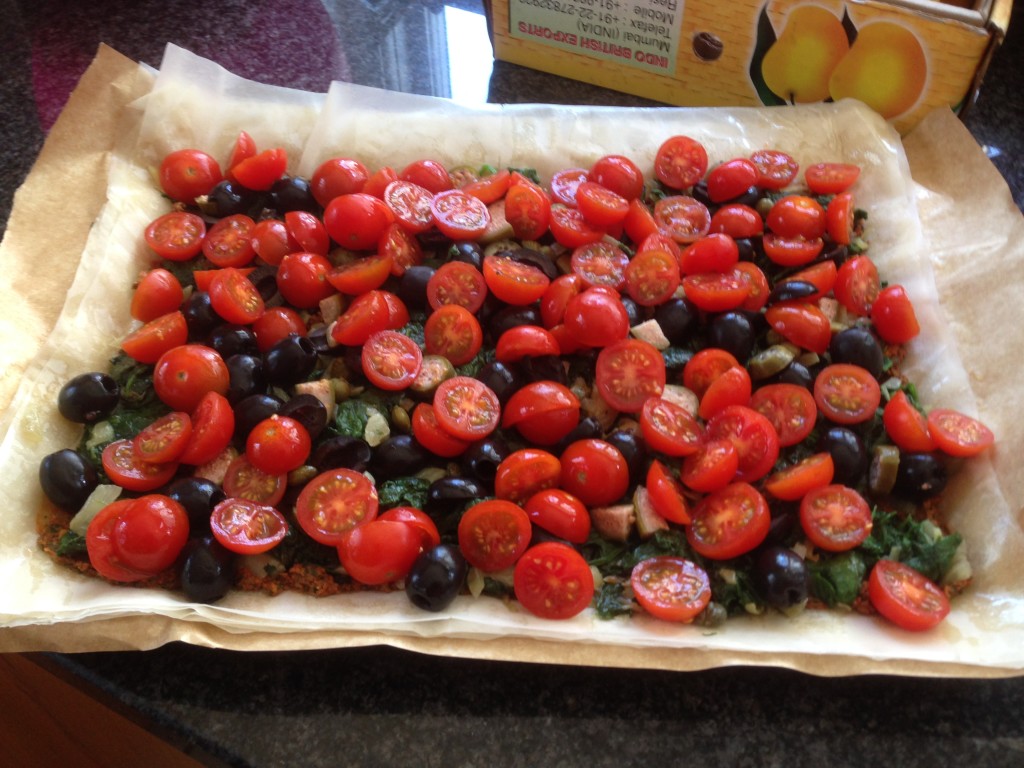 Top the pie with the final filo pastry sheets allowing the edges to overhang. Glaze with egg and sprinkle with black pepper and some grated parmesan if preferred.
Bake at 200C for about 15-30 minutes until the pastry is crisp and brown.