What's the difference between erotic art, historical marvels and pornography?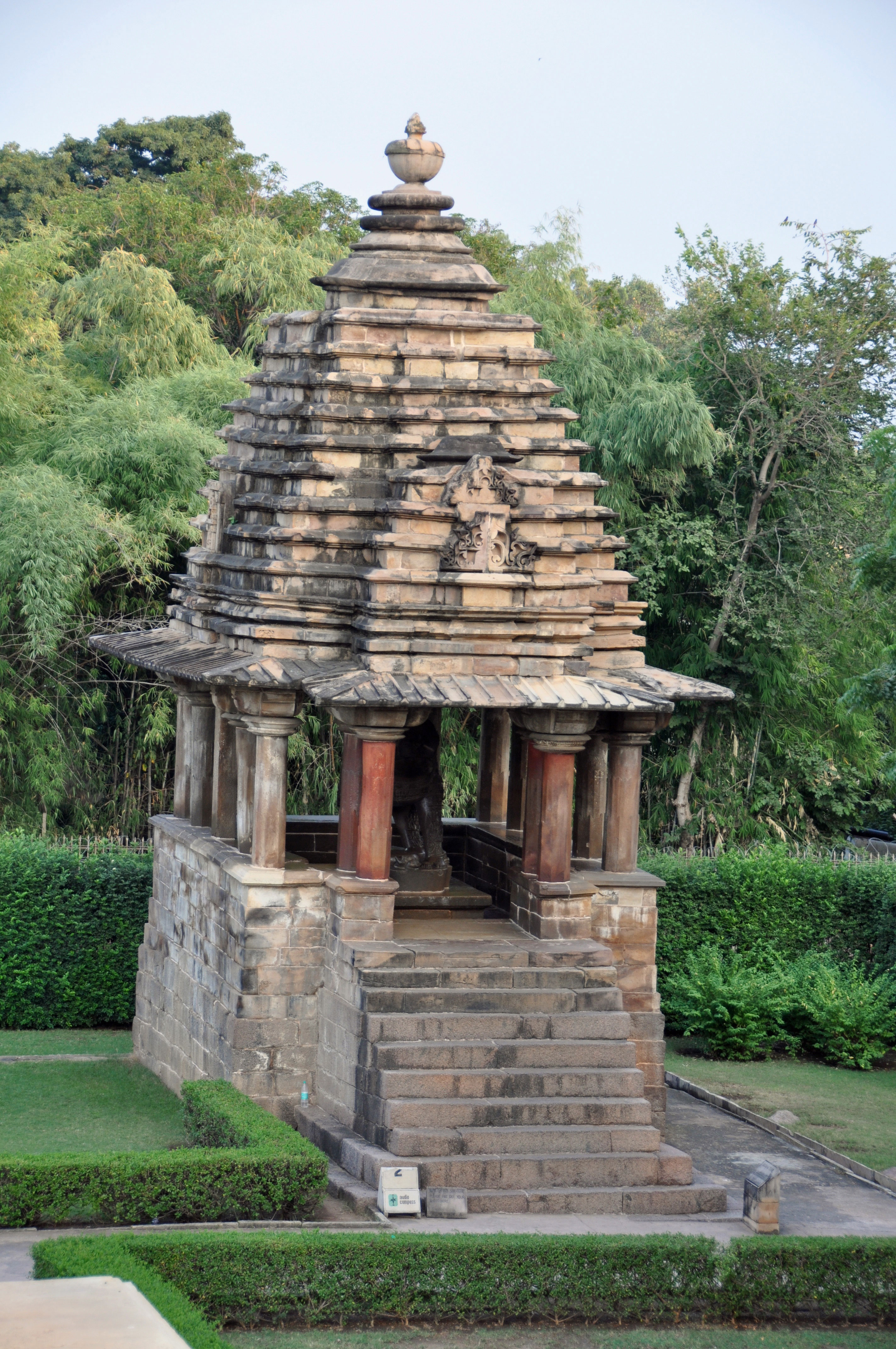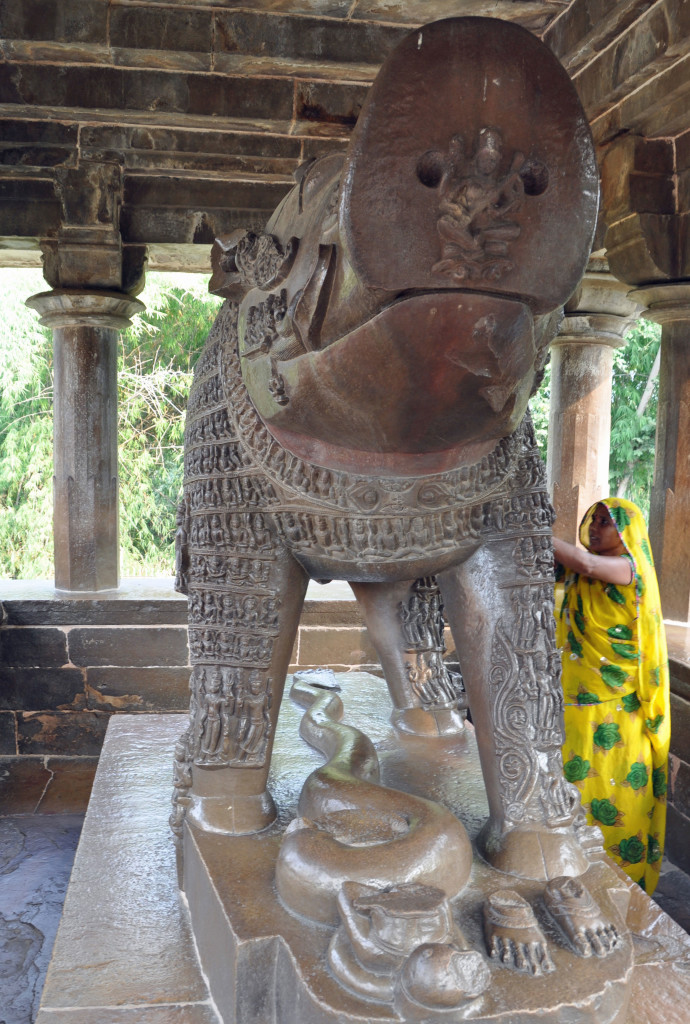 It isn't a question that I've spent a great deal of time worrying about, and perhaps not the obvious one when thinking about tourist attractions.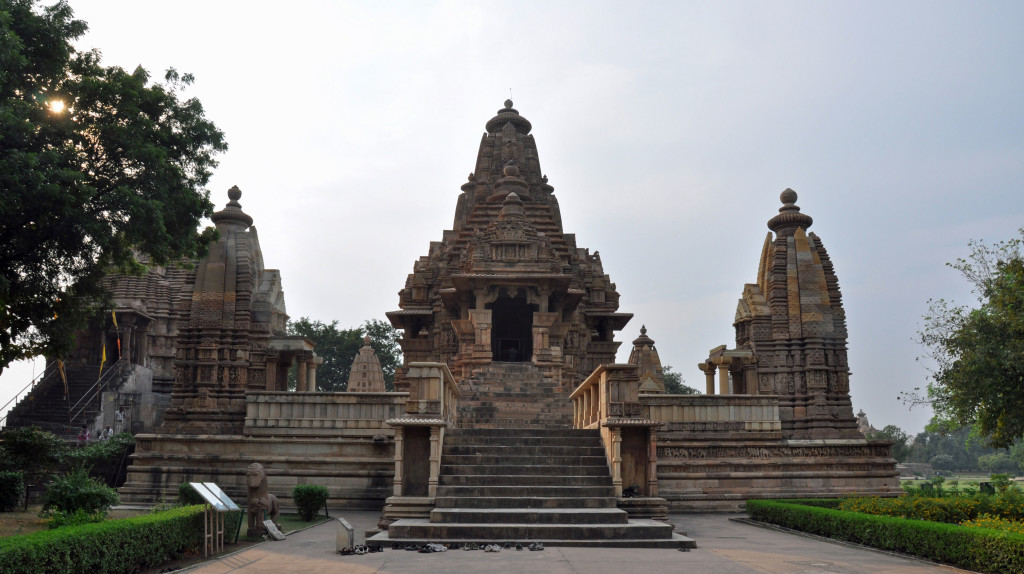 But when we arrived at Khajuraho, North India, (Khajuraho travel guide – Wikitravel) our very competent guide sat us down and looking at my teenage girls asked directly whether we were comfortable talking about sex and sexual images?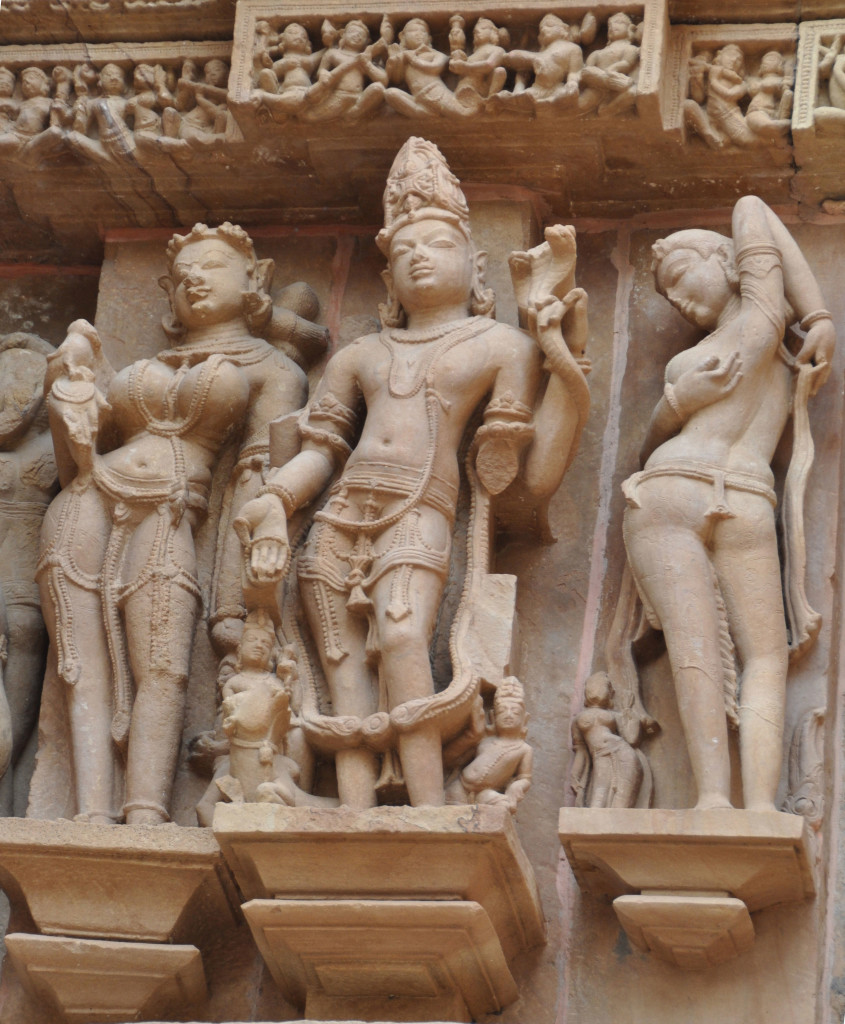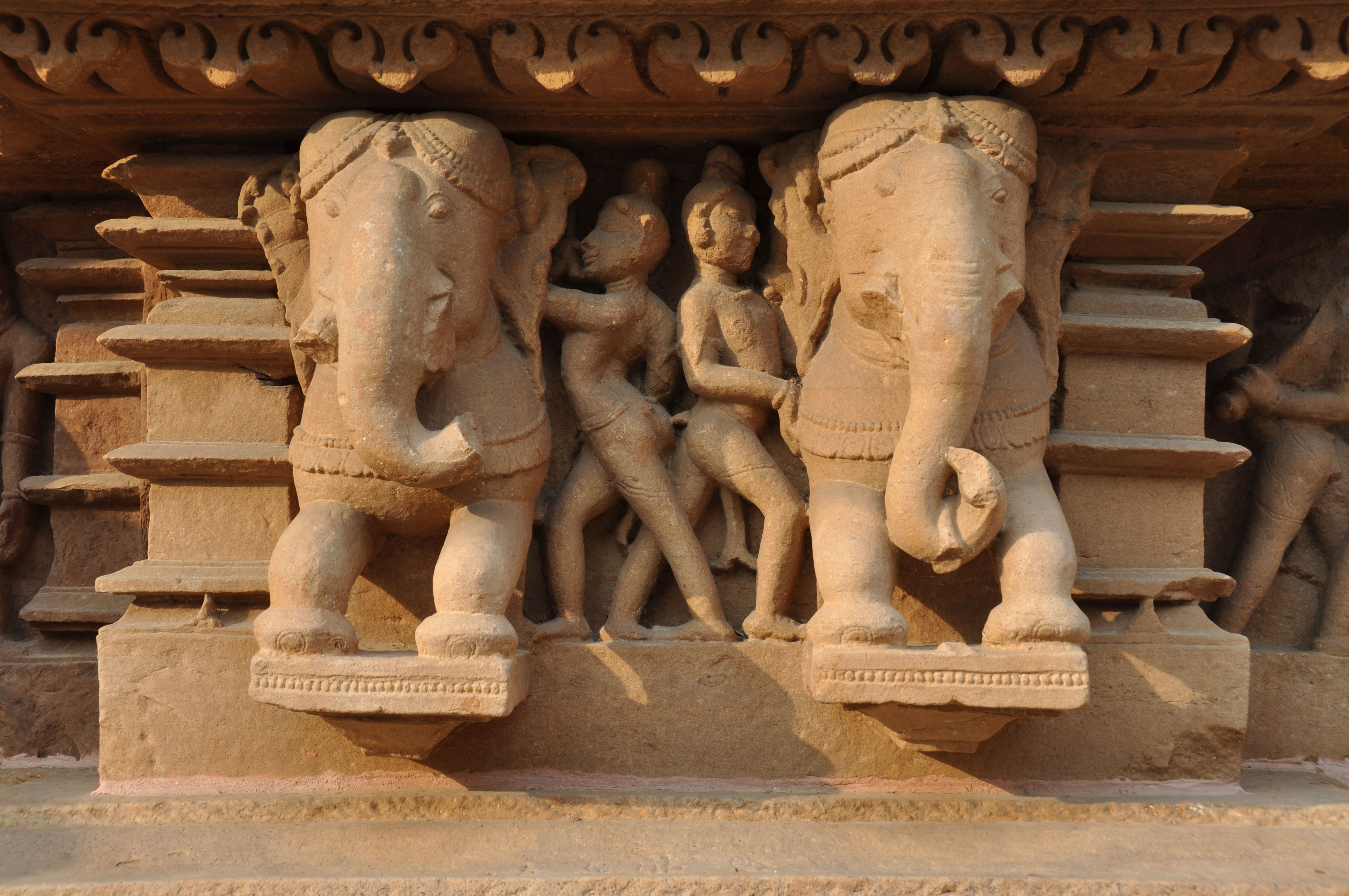 Khajuraho is a tiny town, accessed most easily by either plane or train (a very slow train from Agra) and it is the site of a UNESCO World Heritage site on the basis of a Hindu temple complex "rediscovered" by the British Raj in 1838.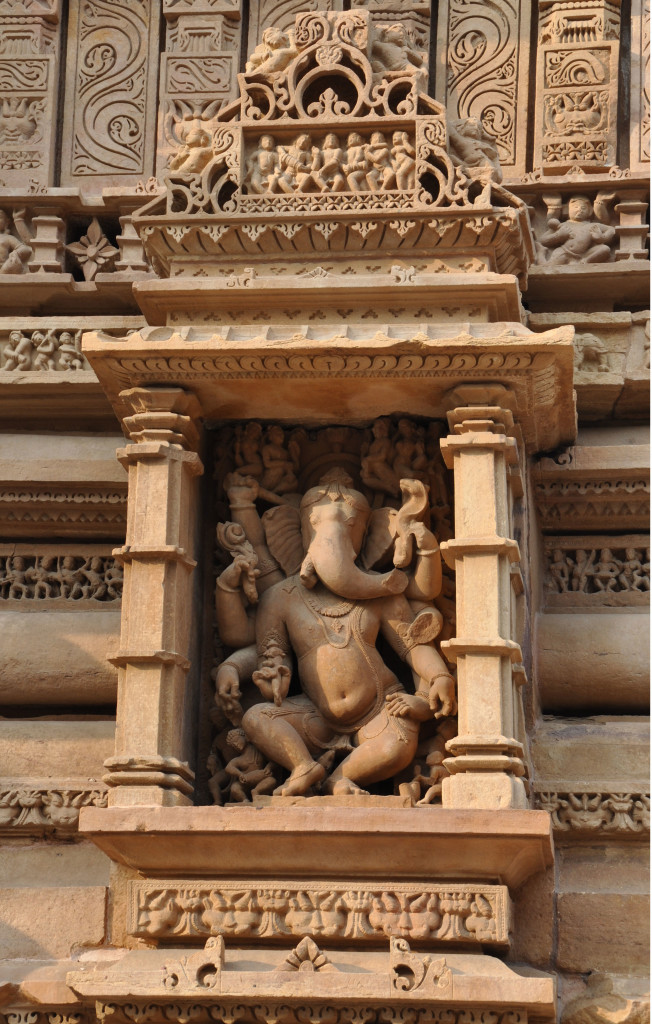 The temples were built between 950 to 1050 A.D. during the Chandela dynasty of Central India and were abandoned as a result of the first Moghul (Islamic) invasion. After the decline of the Chandela dynasty in 13th century, the temples were left under the cover of dense date palm trees for many years, only to be "found" by a British army engineer, Captain T.S. Burt in 1838, . By that time only 22 of the original 85 temples had survived.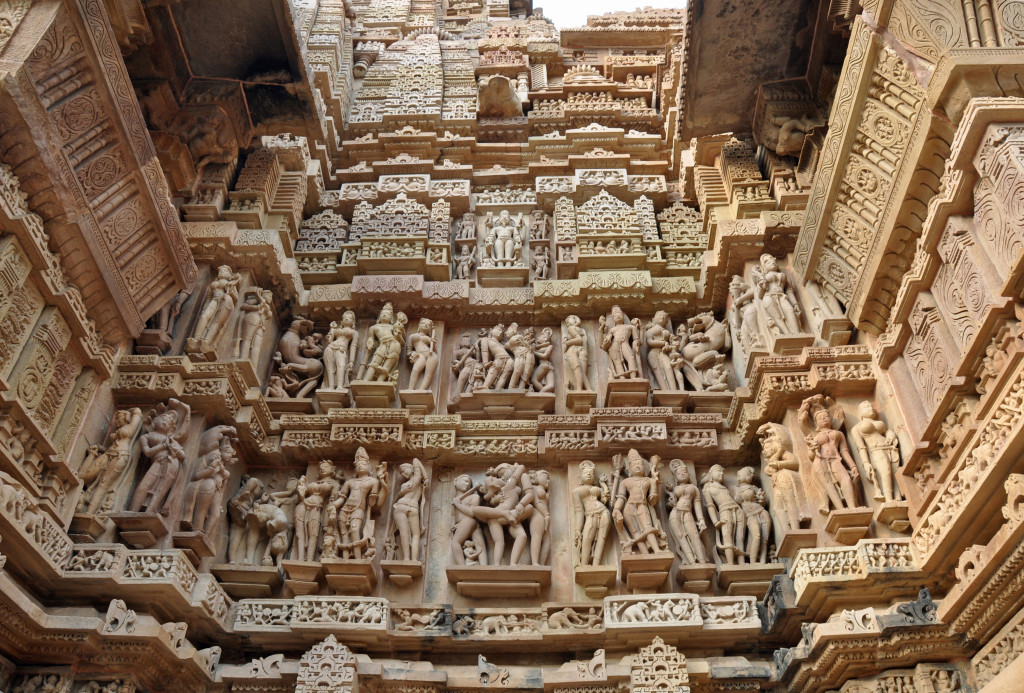 They are extraordinary to visit, with intricate and very beautiful carvings on all of their outside walls. In every temple, you can find images of royalty, armies, wrestling, family, war, courtship, marriage, lovemaking, music and dancing, spiritual teachings, union, meditation, bliss, gods, goddesses, plants, animals, a huge range of all human forms.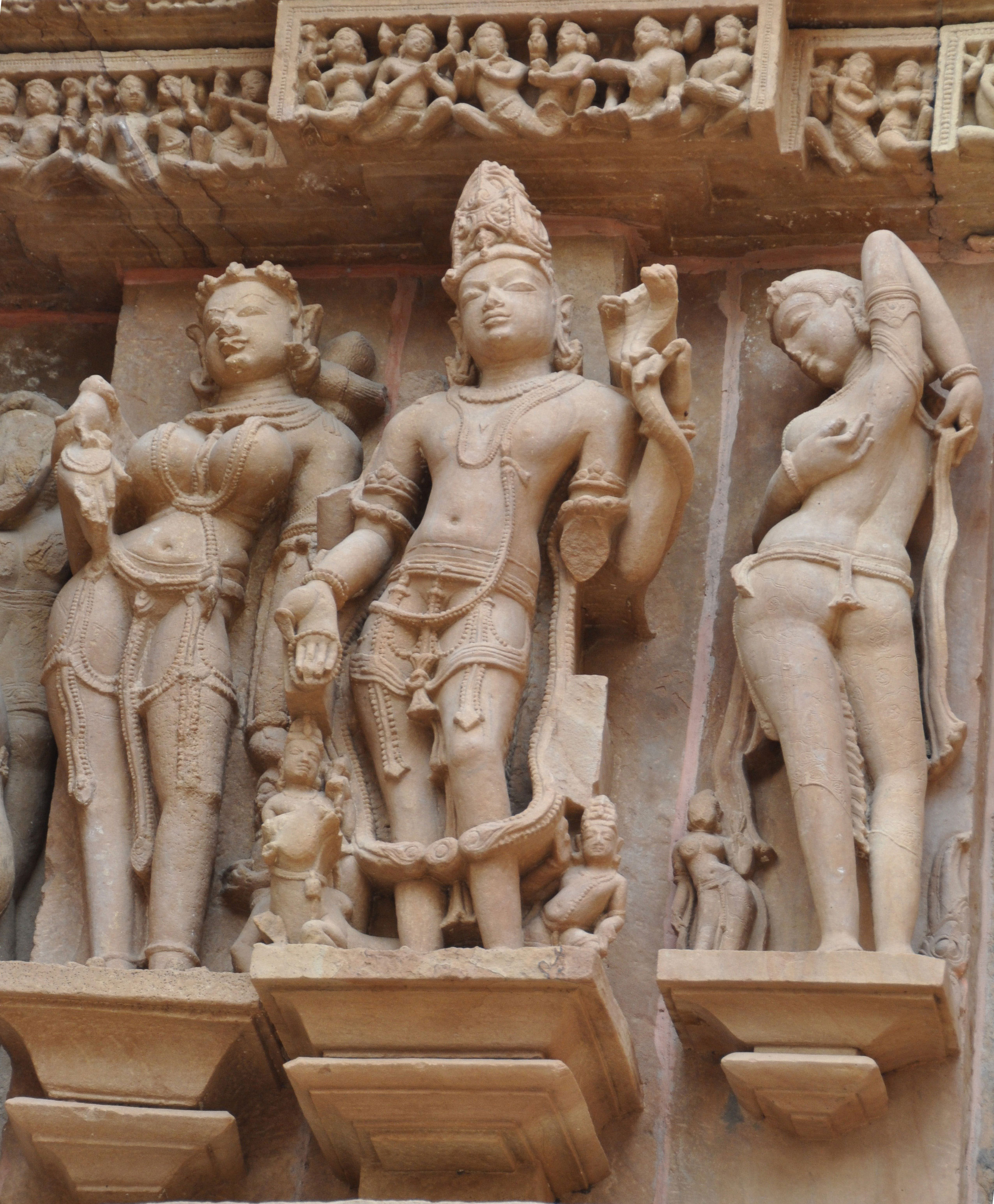 Around 10% of the carvings are said to be erotic, based loosely on the Kama Sutra. It was described to me as carvings of everyday life (though idealised obviously) and a lesson that all of our everyday lives should be lived and experienced as acts of celebration or worship.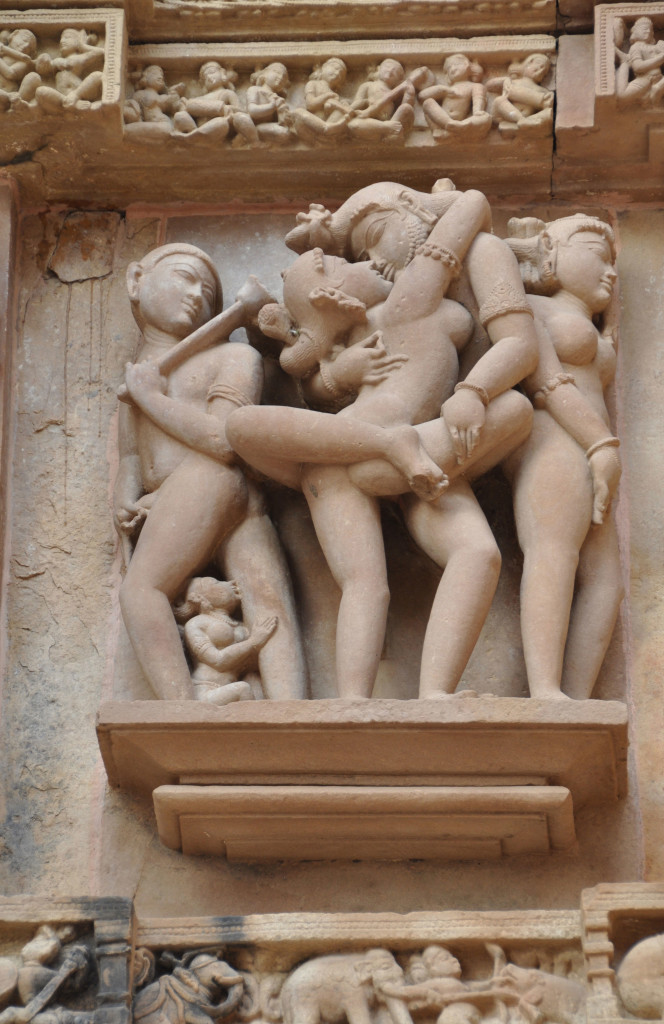 If you can think of a variant of heterosexual sex, you'll find a statue carved to represent it on the walls of the temples in Khajuraho, which is a bit like suggesting the walls of St Pauls in London or the Vatican should be exquisitely reinvented with artworks of copulation rather than martyrdom. And all this in a country where a couple can now be arrested simply for kissing in public.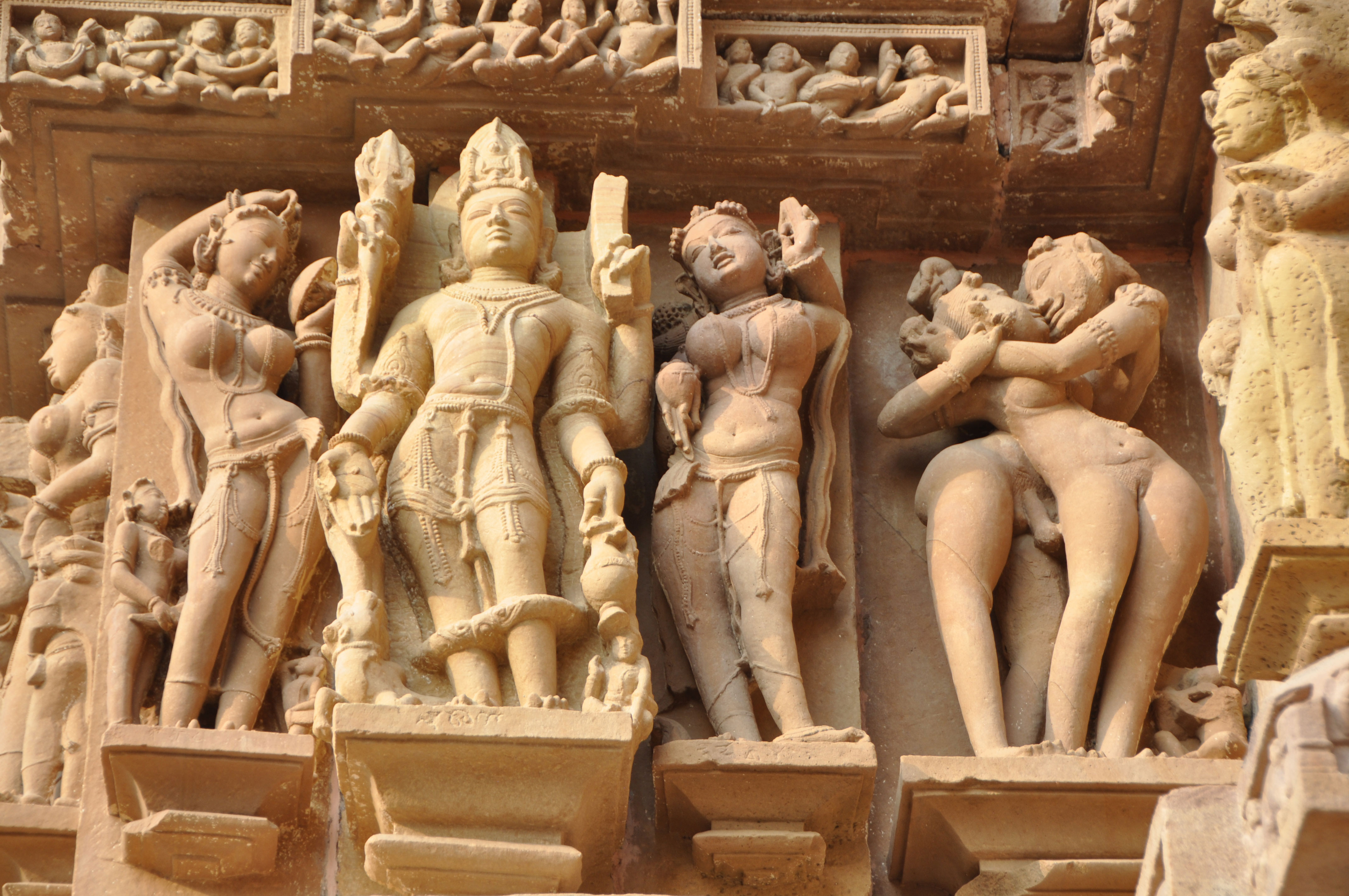 And walking around, I was very concious of trying and failing to balance out the number of explicit carvings with non-explicit because to my western gaze, they were difficult to ignore, saying much more about me than them, obviously.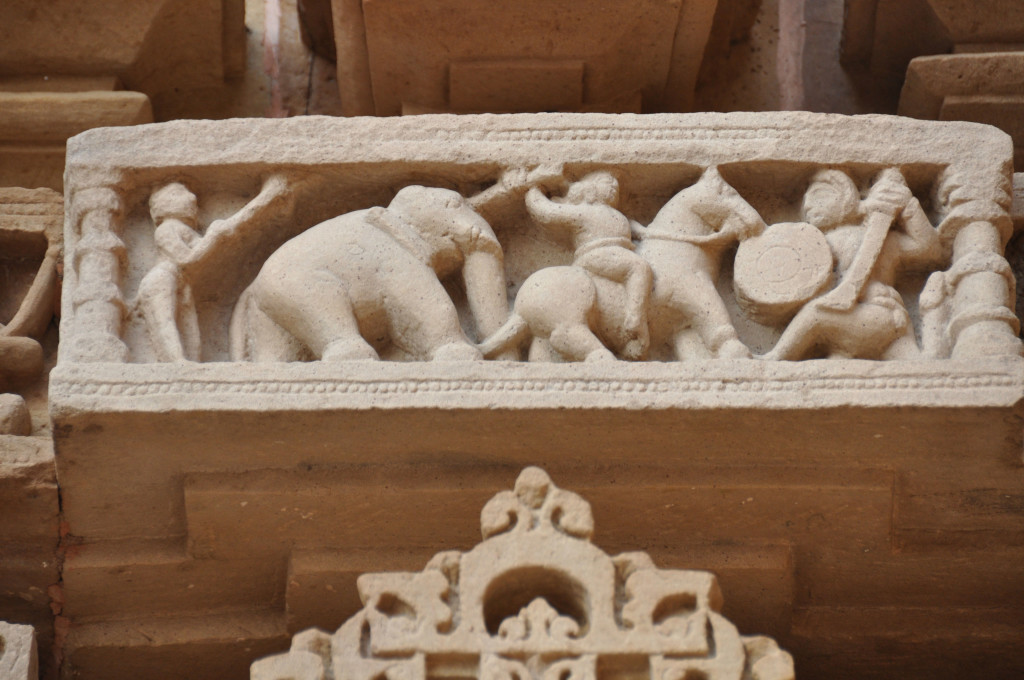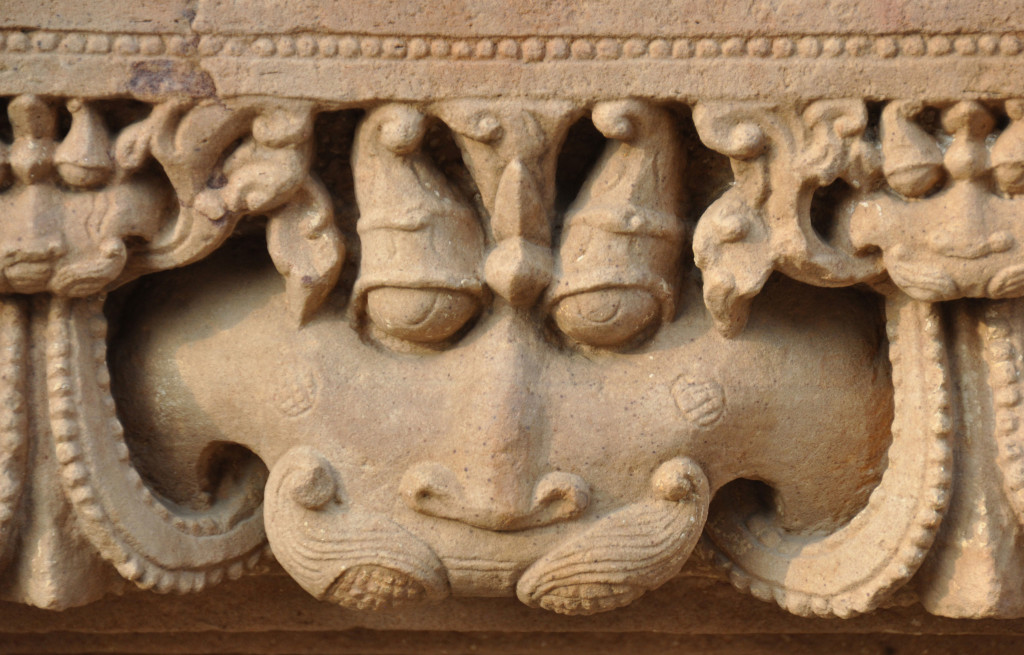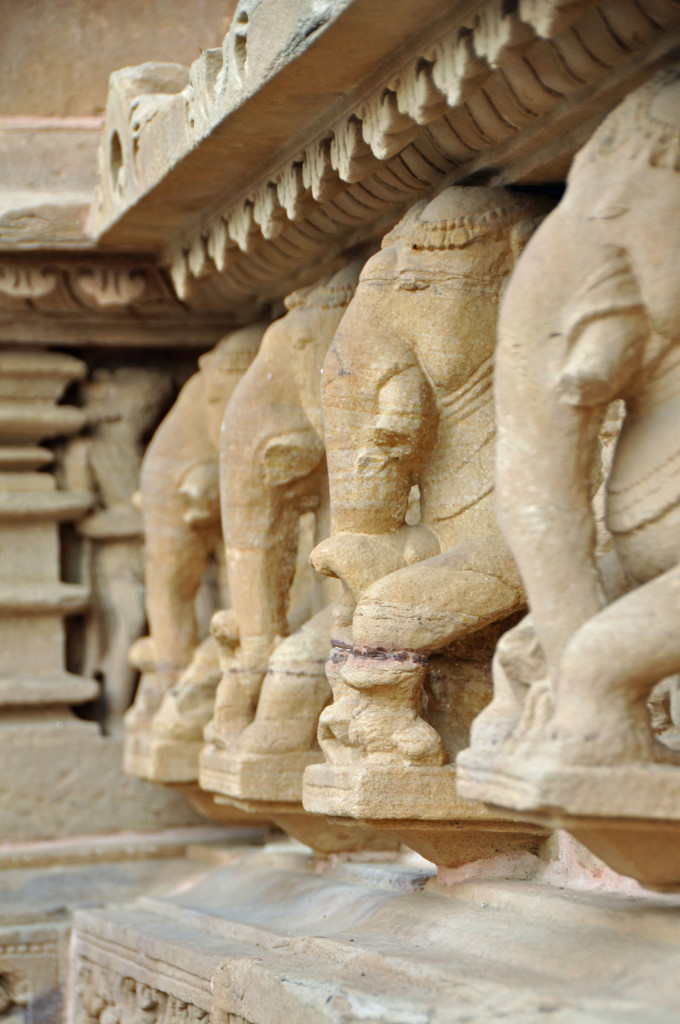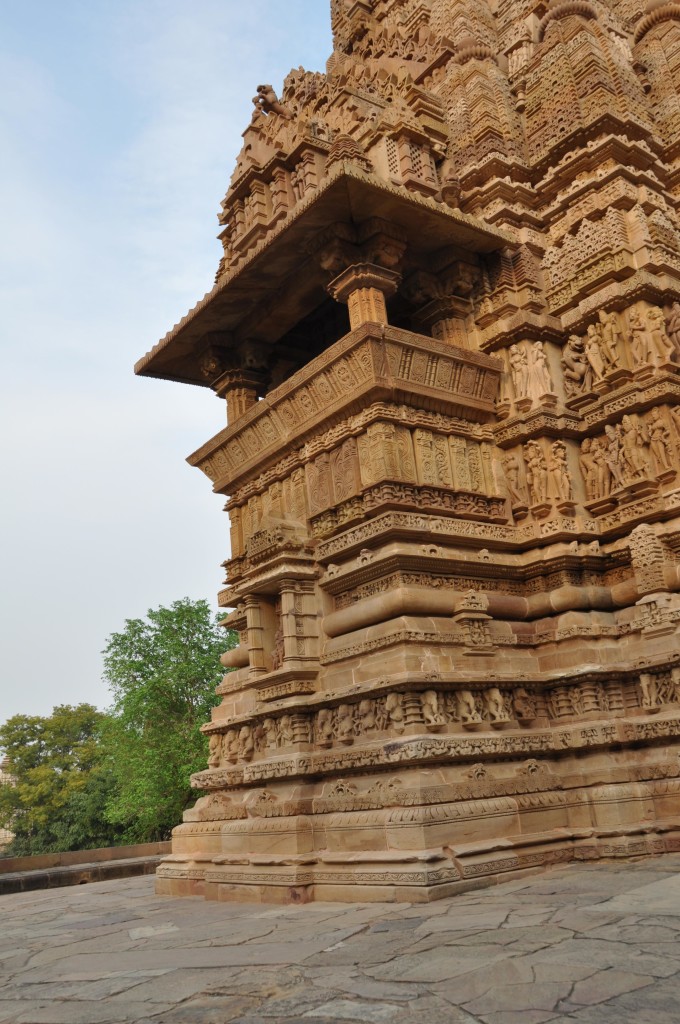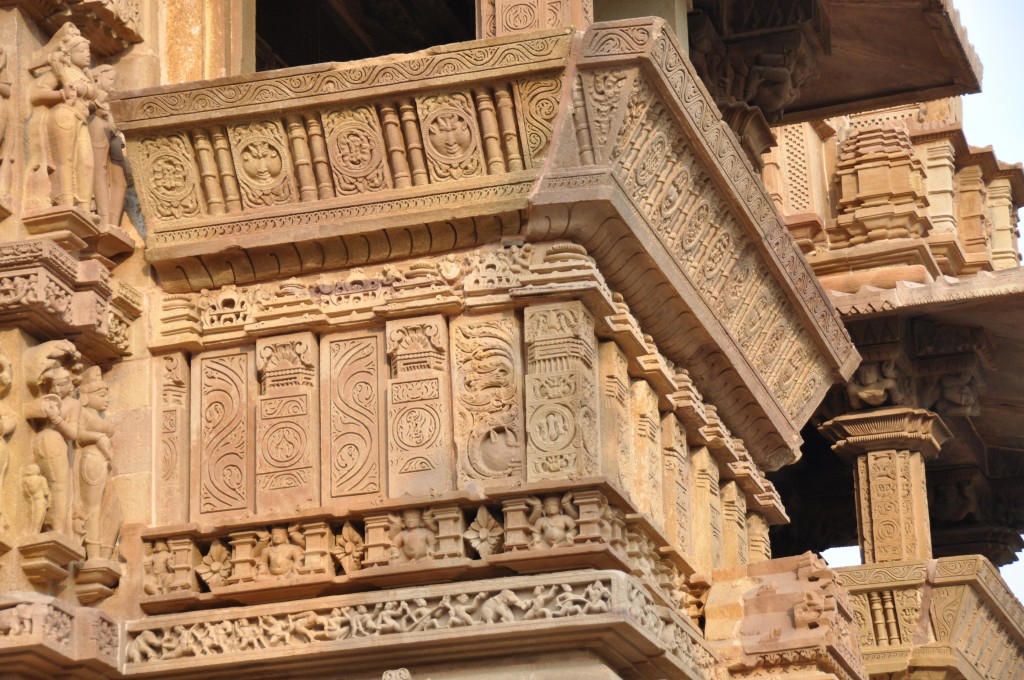 The carvings are clearly made for the male gaze, probably by men as well as for men. They are also hugely ambitious and optimistic – the women are all slender yet full-breasted (the boobs all point skywards), the men are all very well endowed and very acrobatic. There is a surprising amount of humour.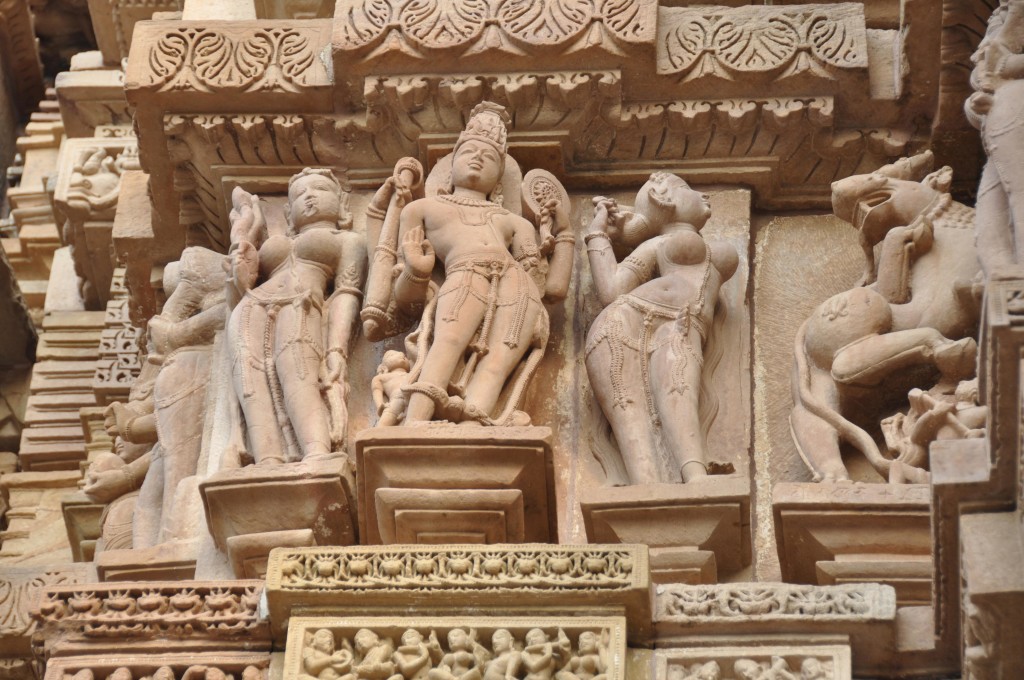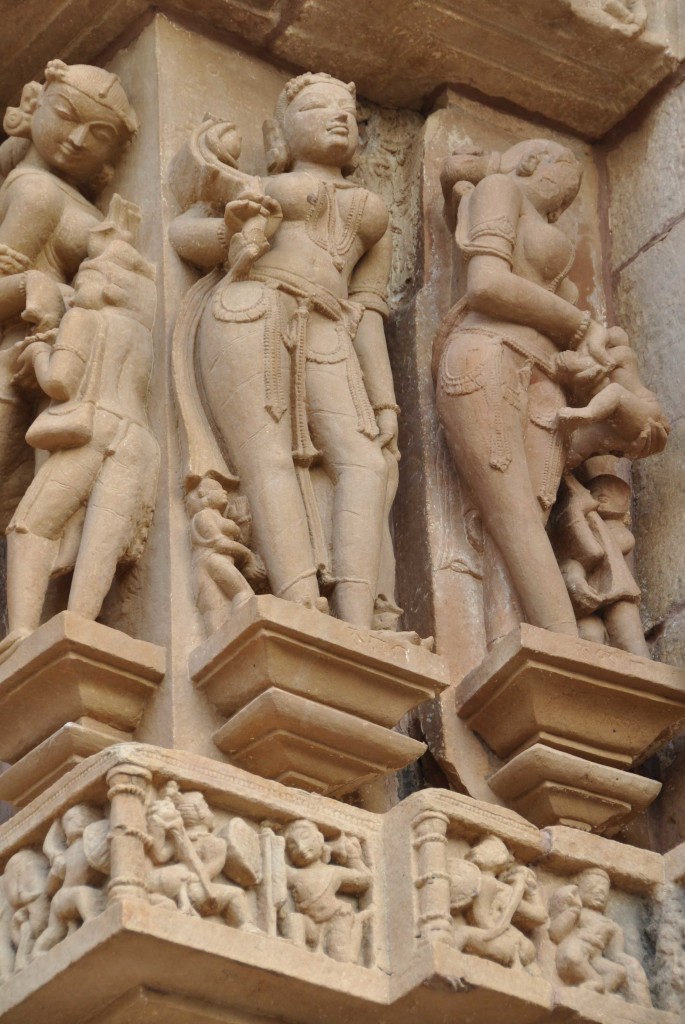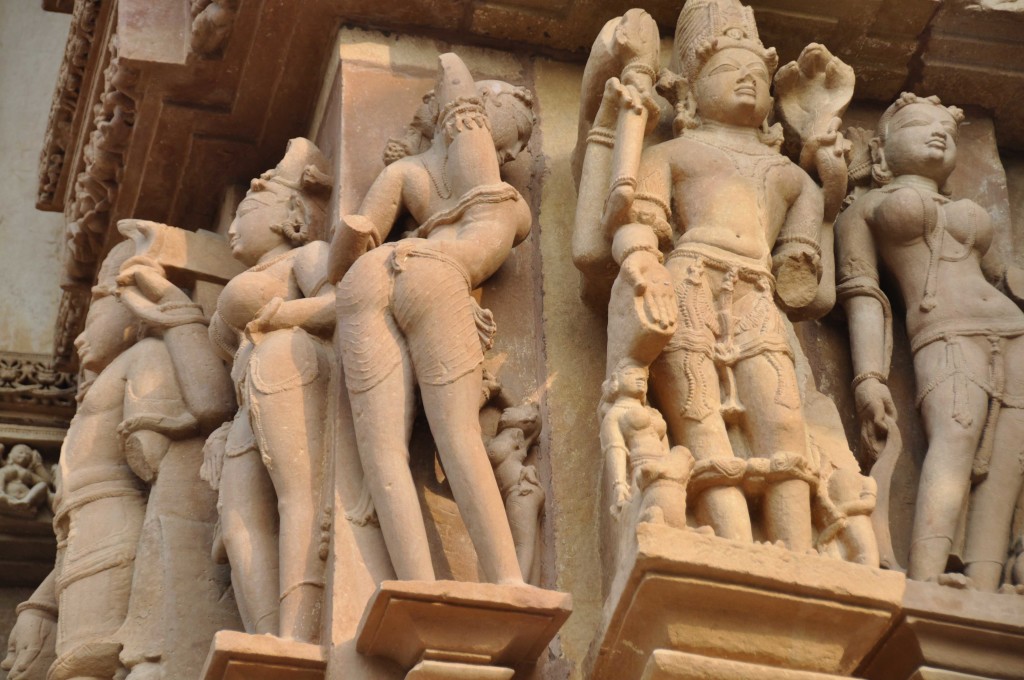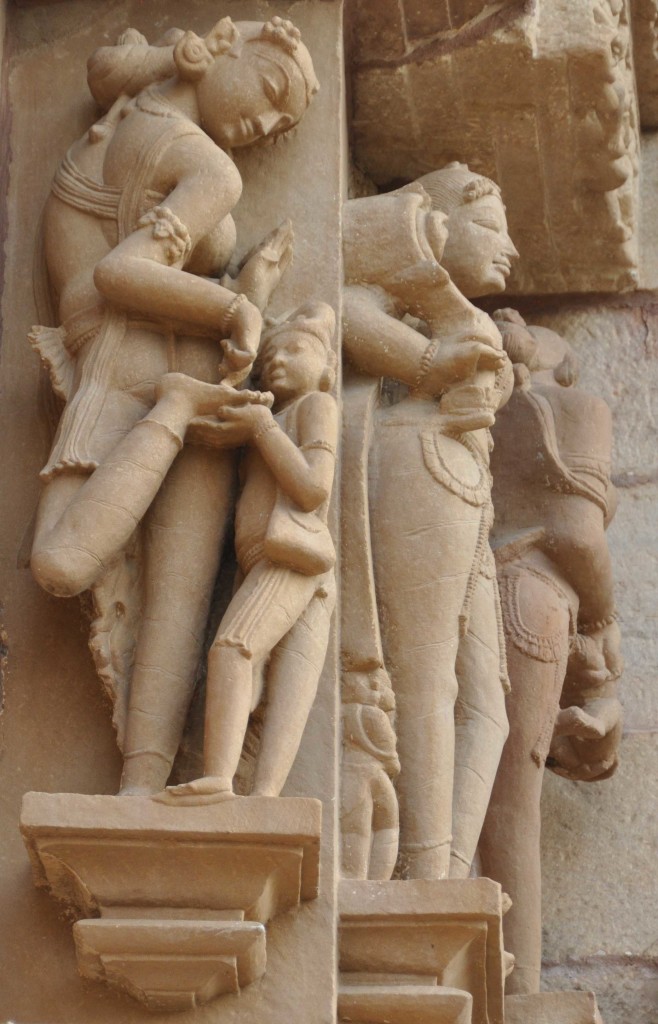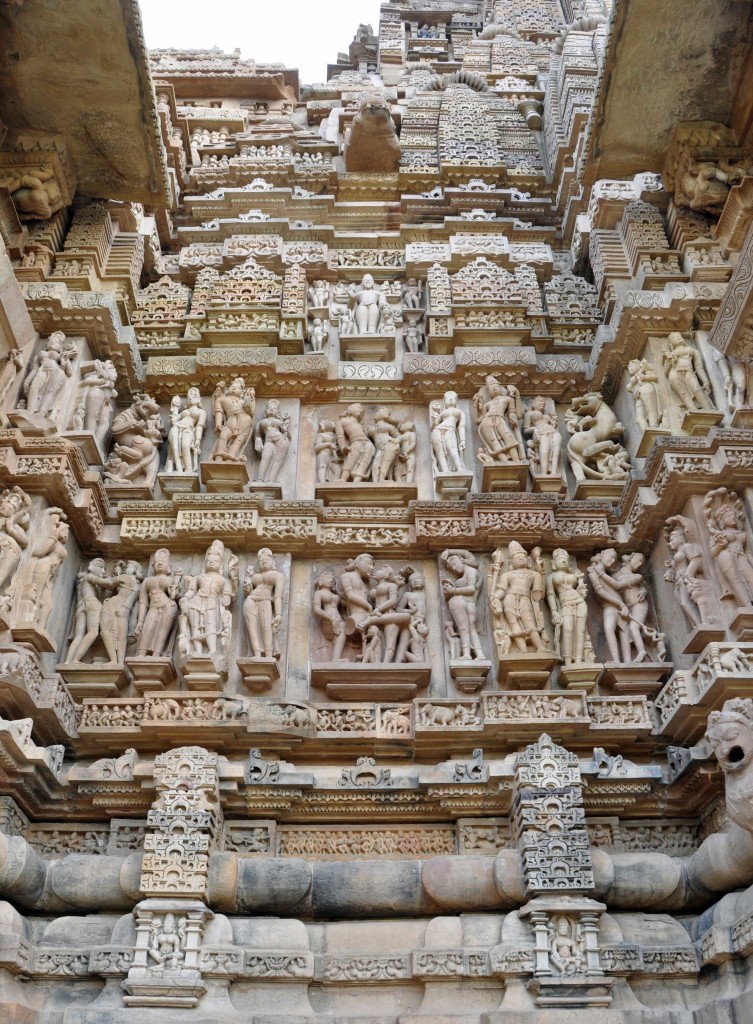 Even when showing a man screwing a horse, there is a degree of fun with one onlooker hiding his face in his hands (bestiality was probably shunned) but still taking a peek through his fingers, horror plus a prurient curiosity that can't quite be denied.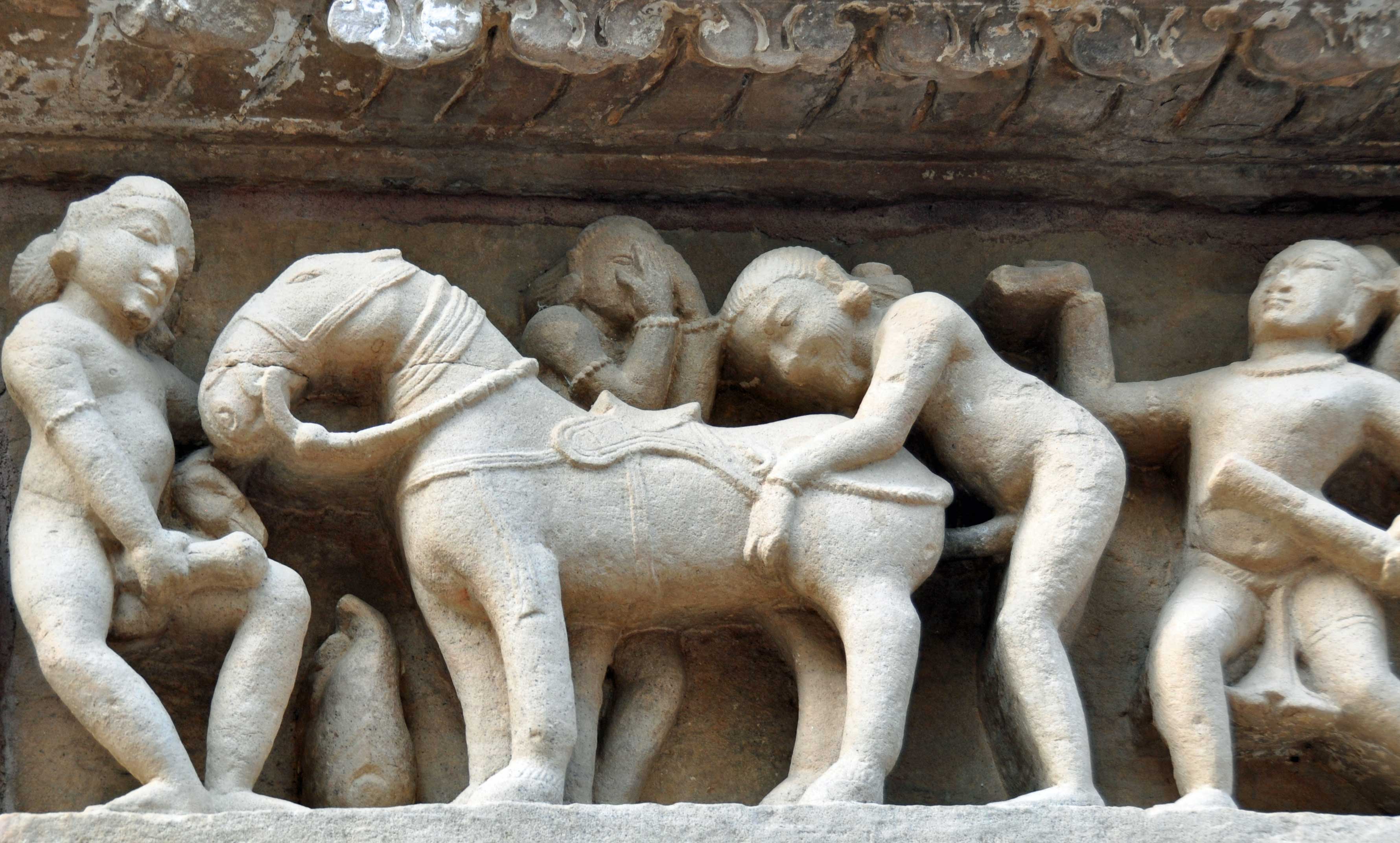 And there is the elephant who refuses to get on with his work because he's too interested in watching the couple next to him having sex.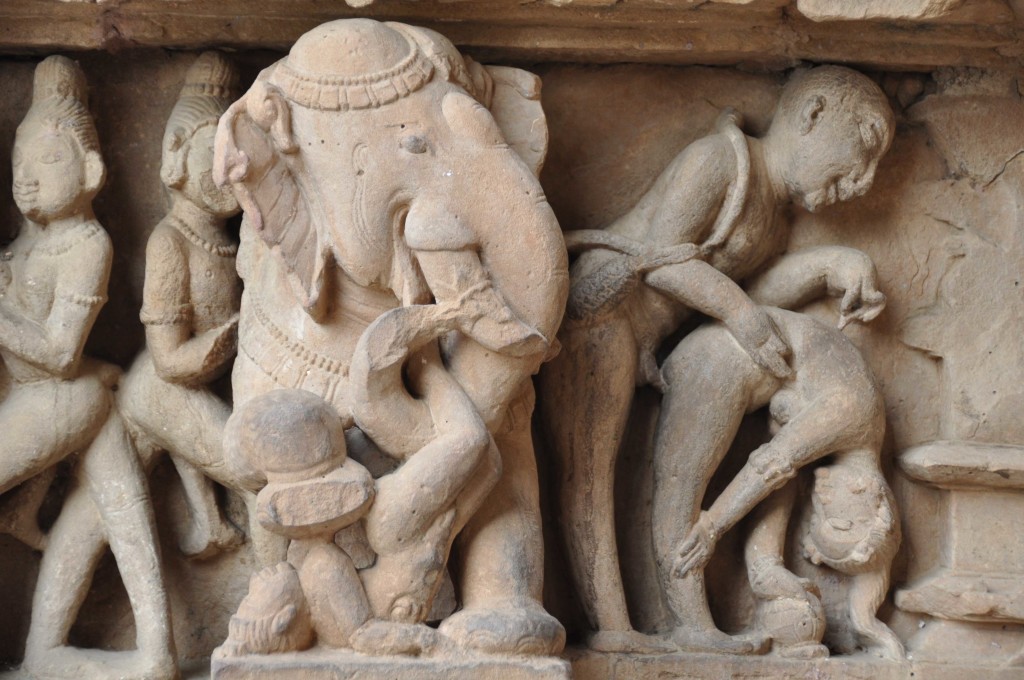 There's a lot of sex. There's also a lot of going to war, fighting with elephants, with camels etc. There are hunting scenes and classrooms where learned men are wafted with fans by nubile women. There is a skill and fluidity to the bodies of men wrestling that really is beautiful.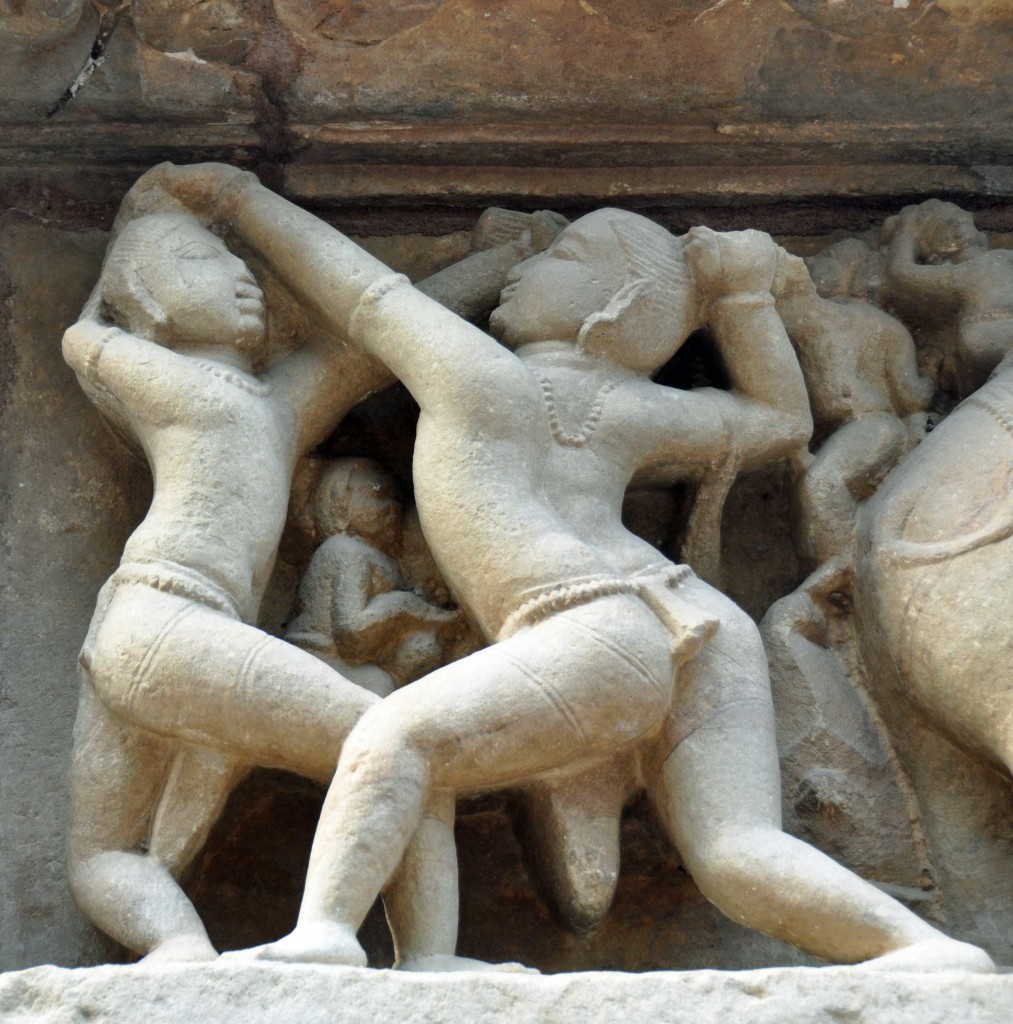 And in some of the carvings of couples, the faces show a genuine tenderness or fondness for each other, though obviously not when wrestling.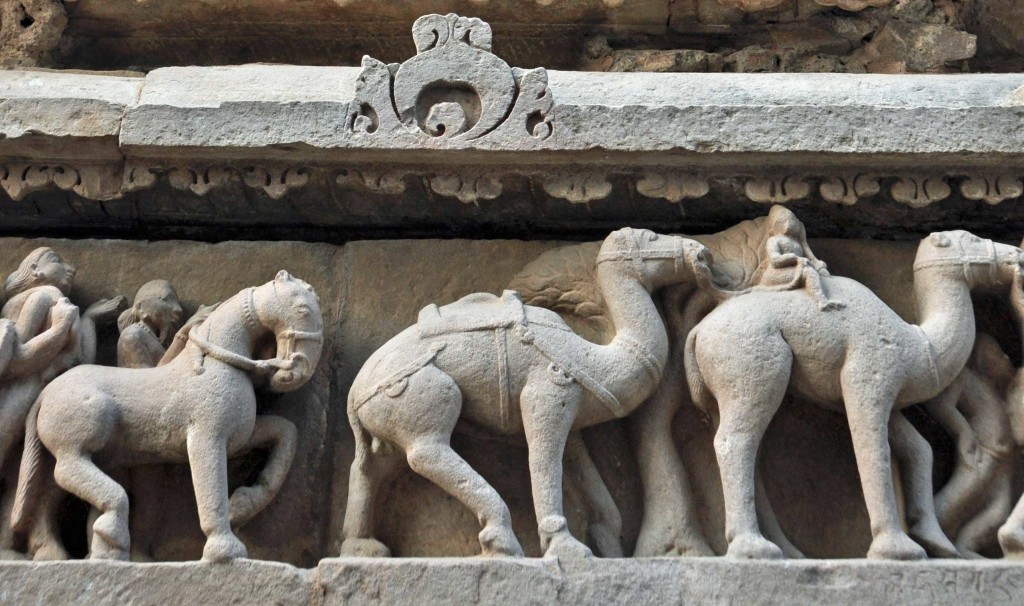 Having enjoyed the glorious Lakshmana Temple, we were left to wander around the Devi Jagambi Temple. There's only so many times a guide can point out masturbation before it gets tired.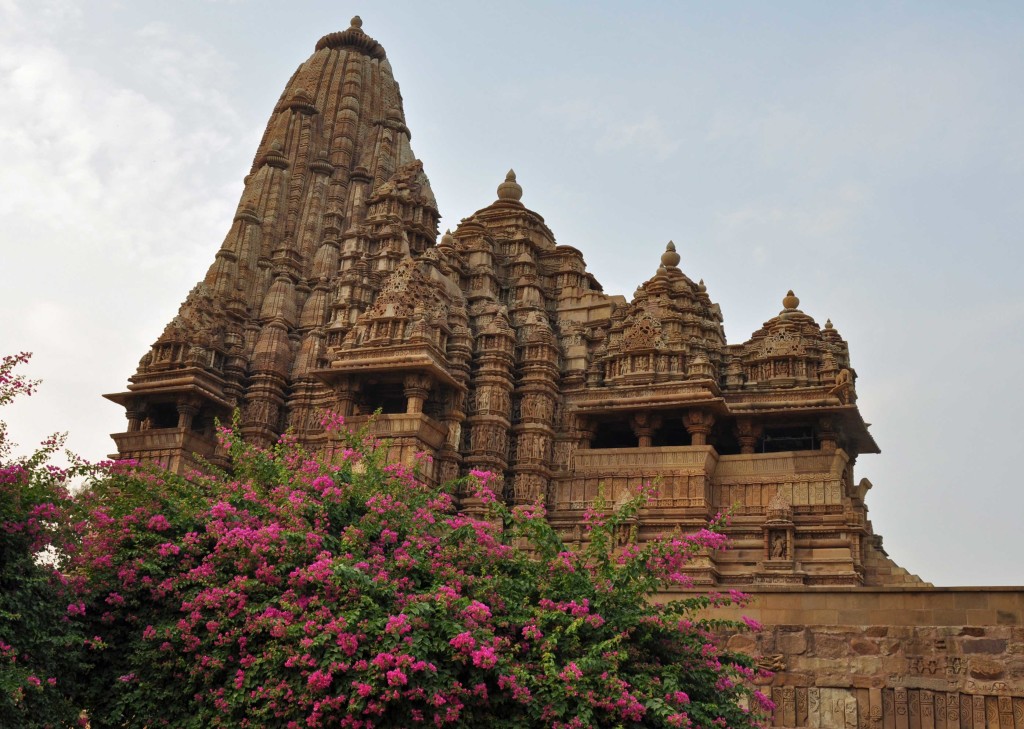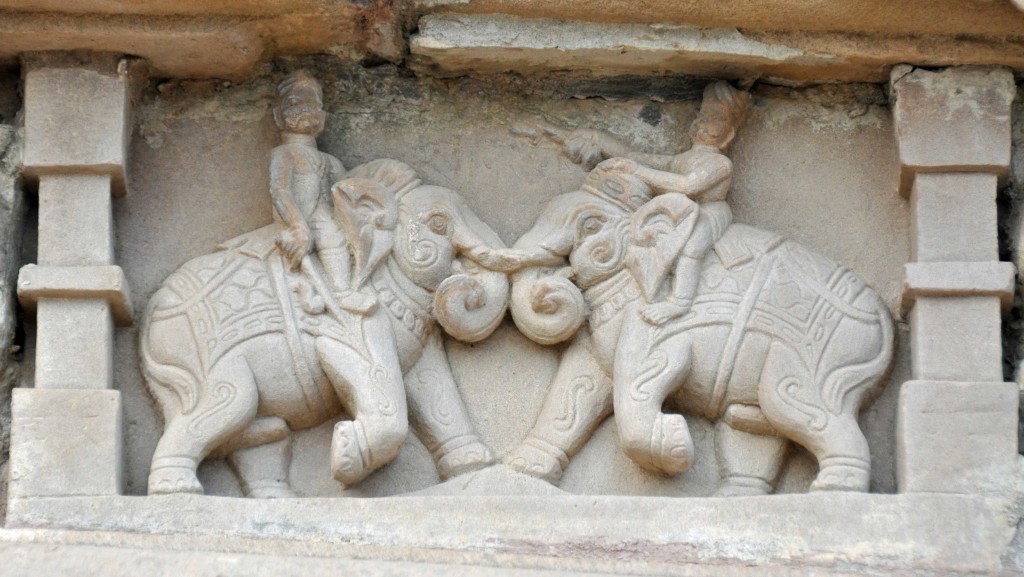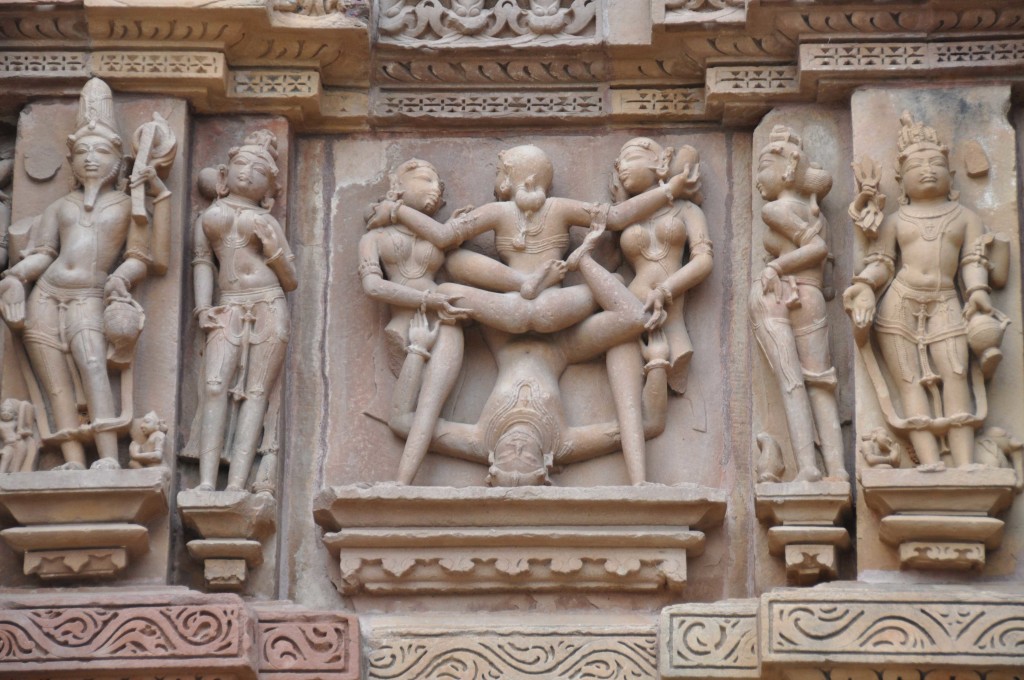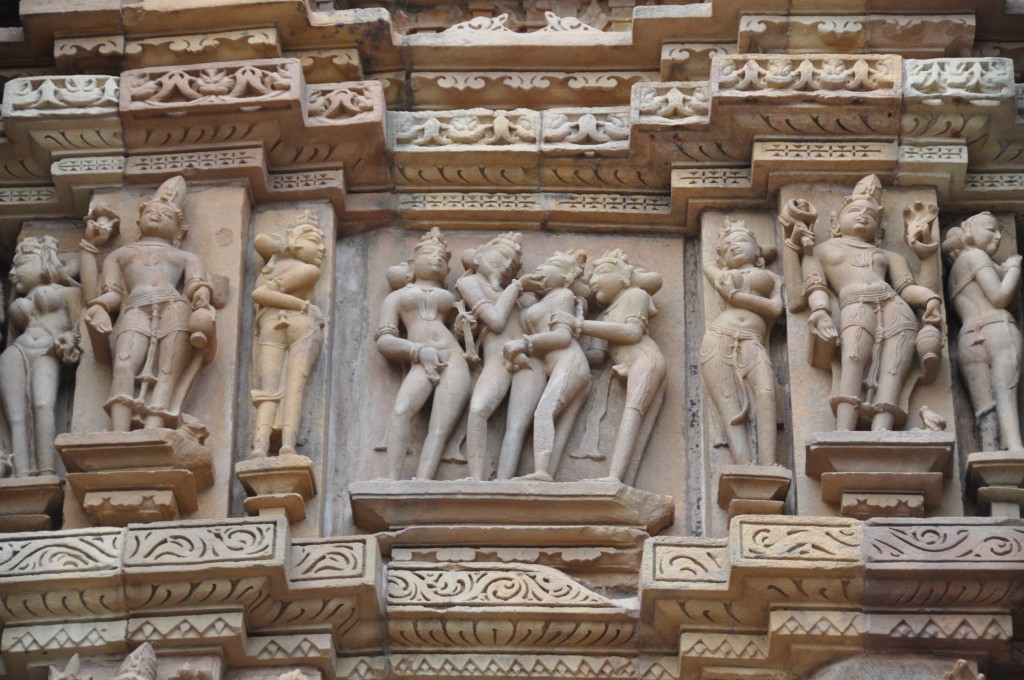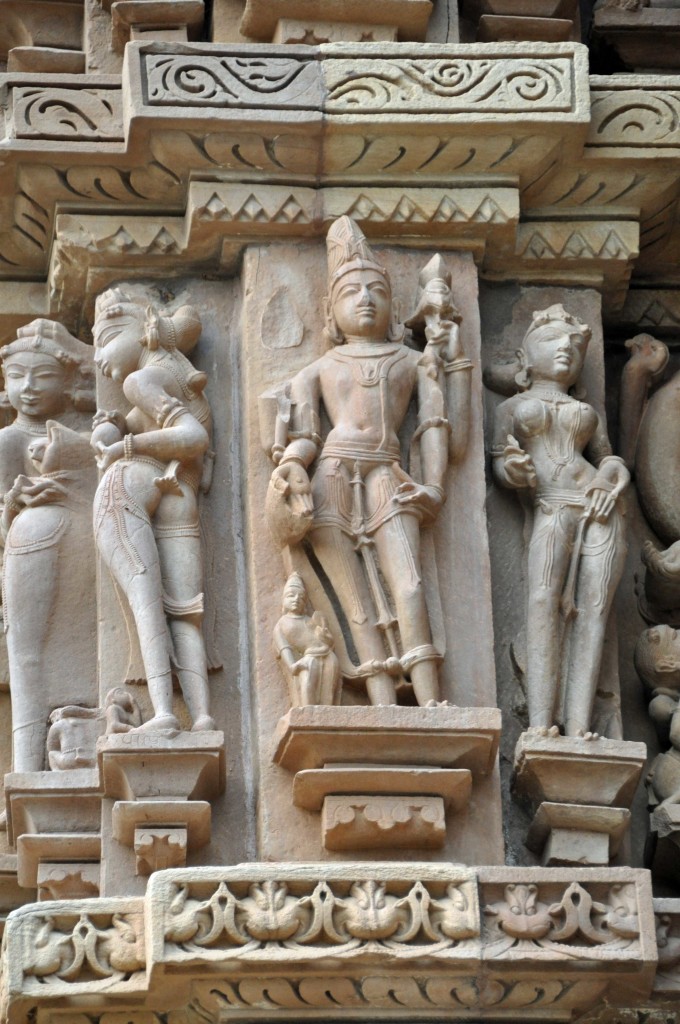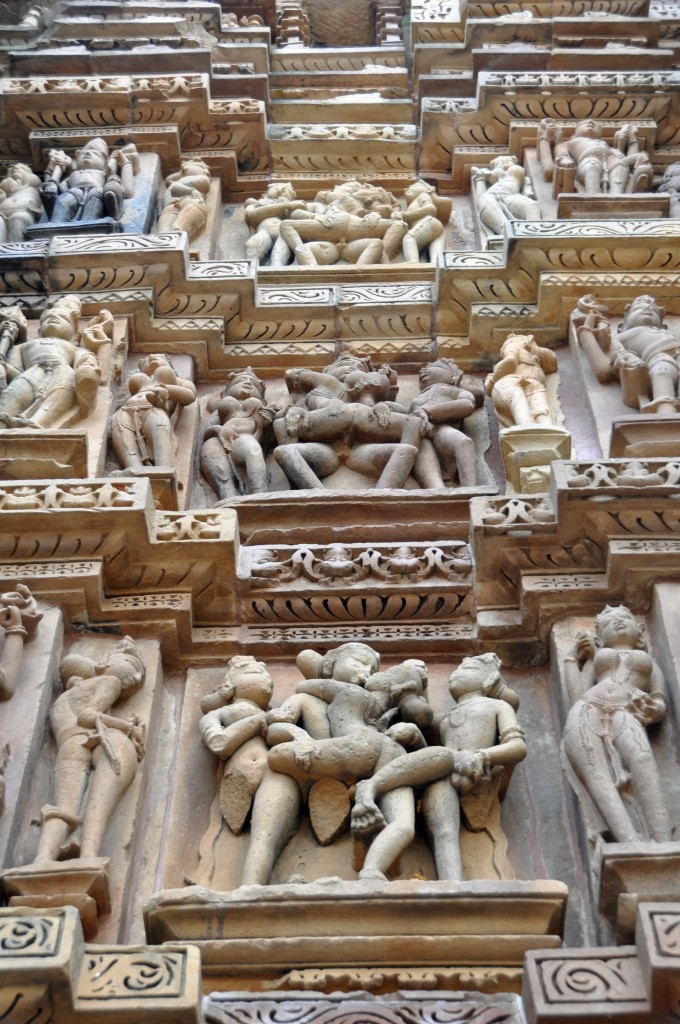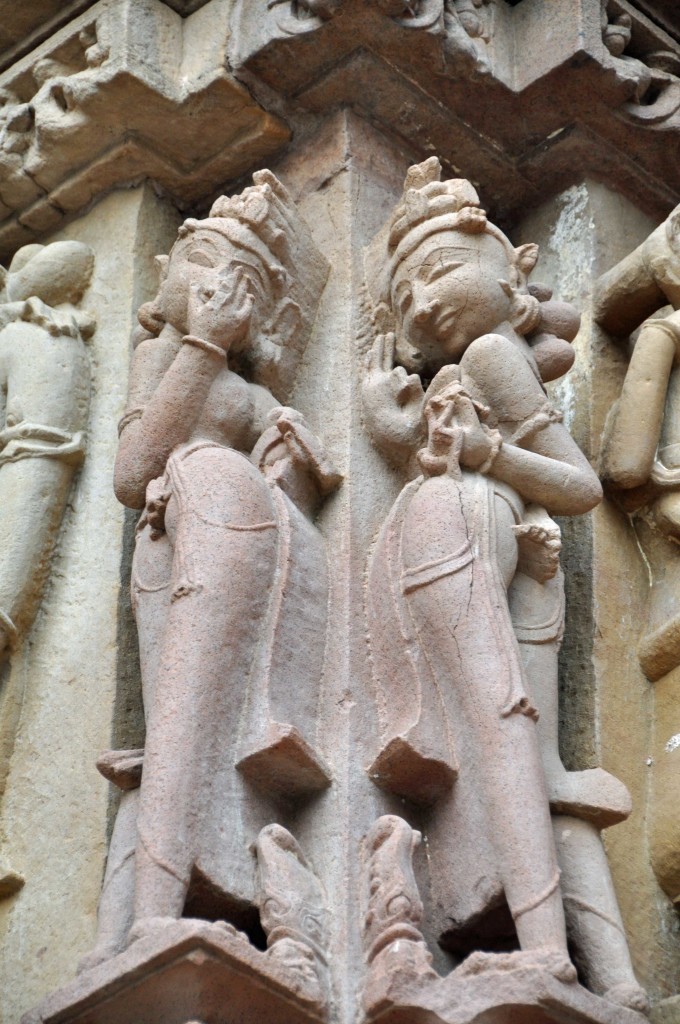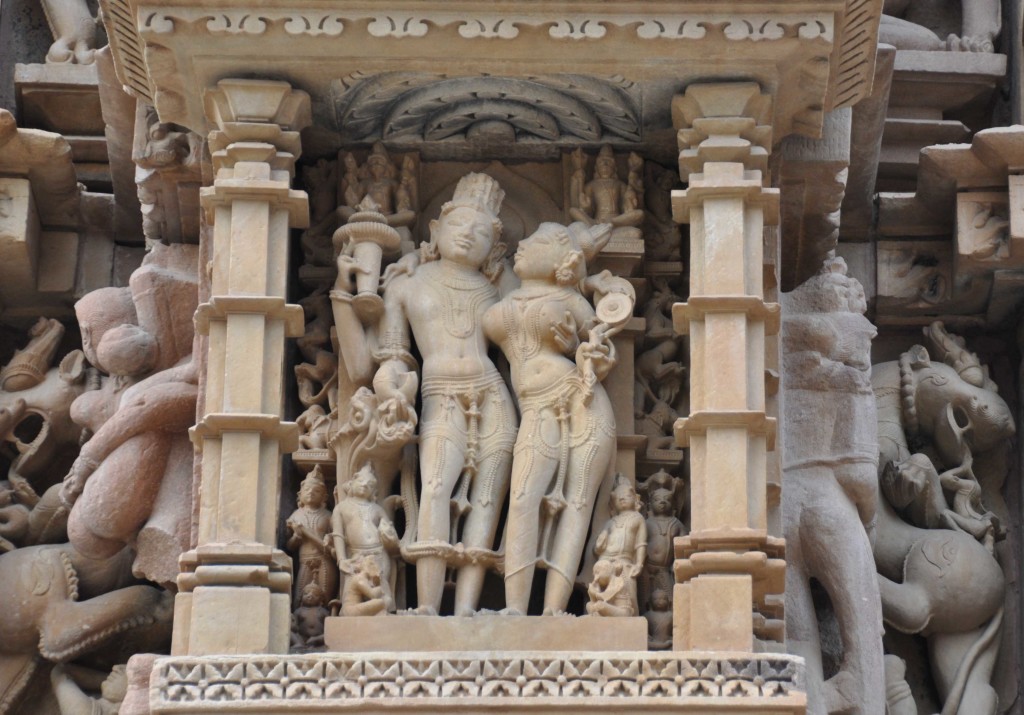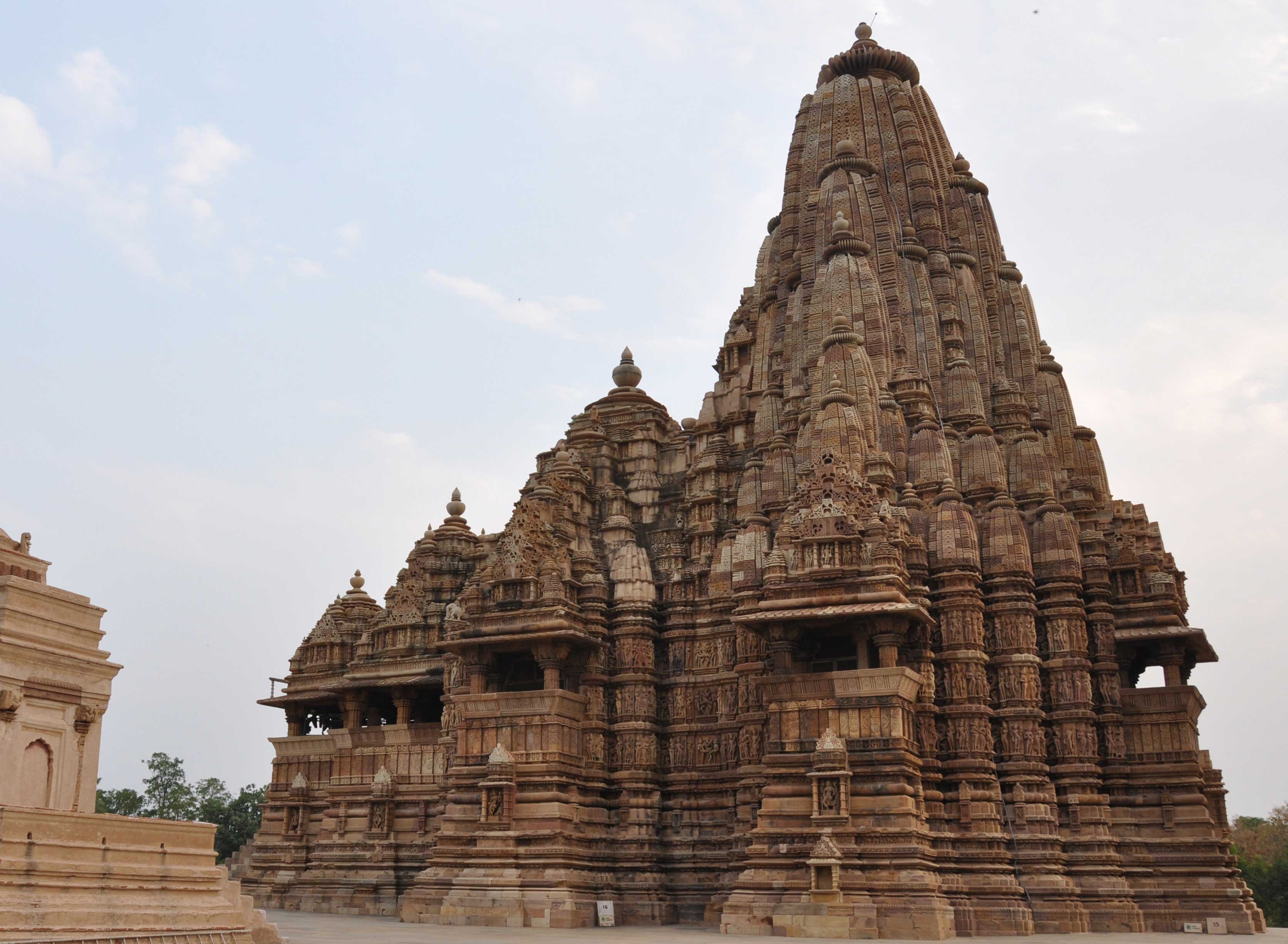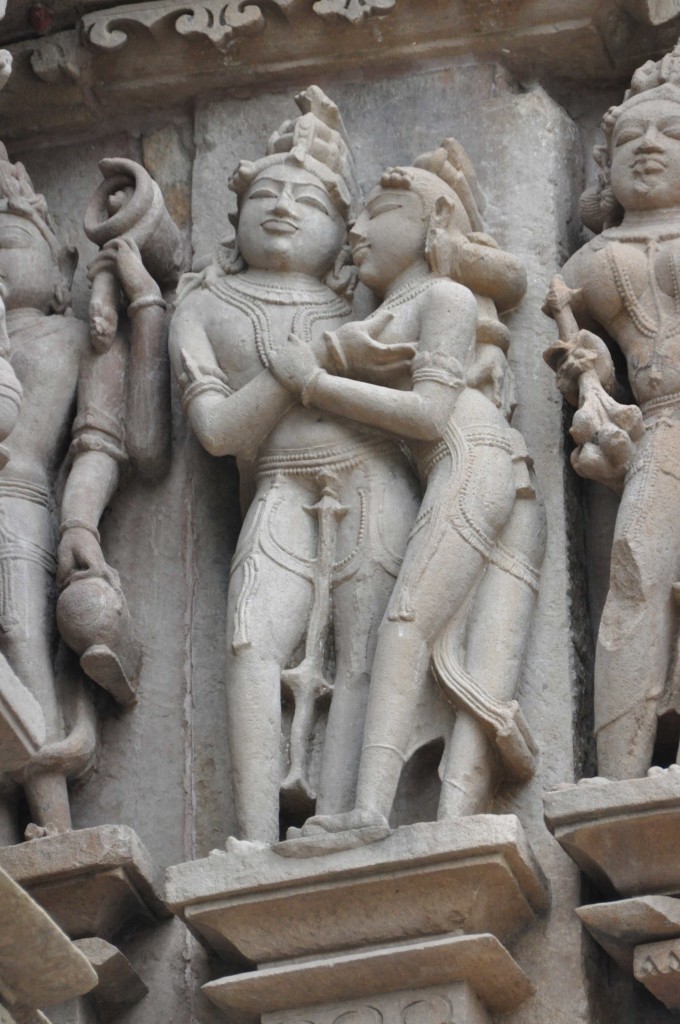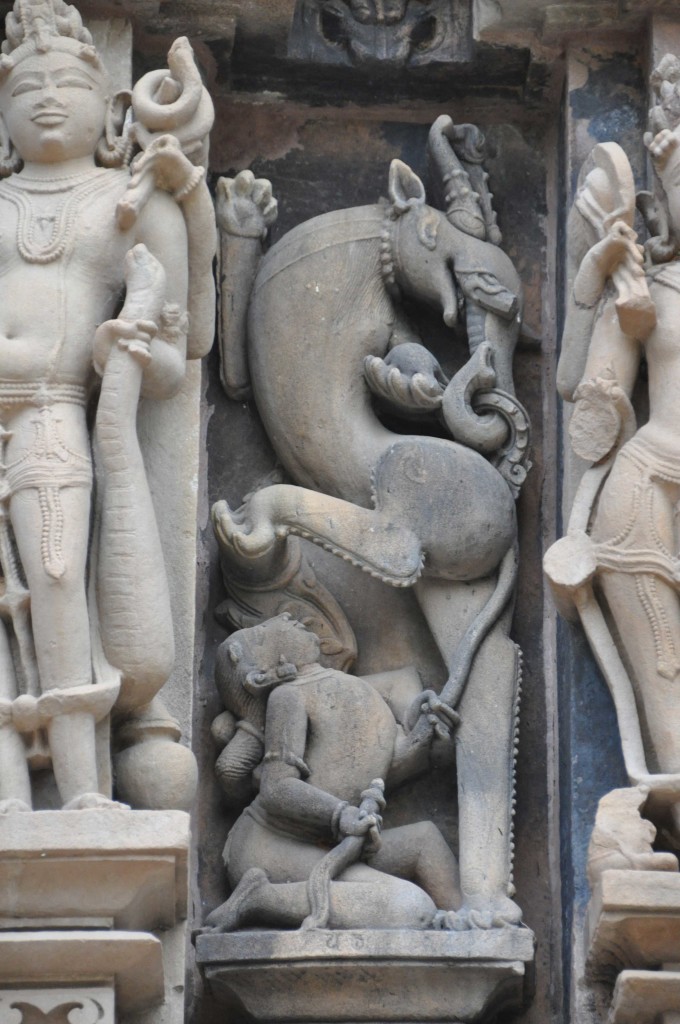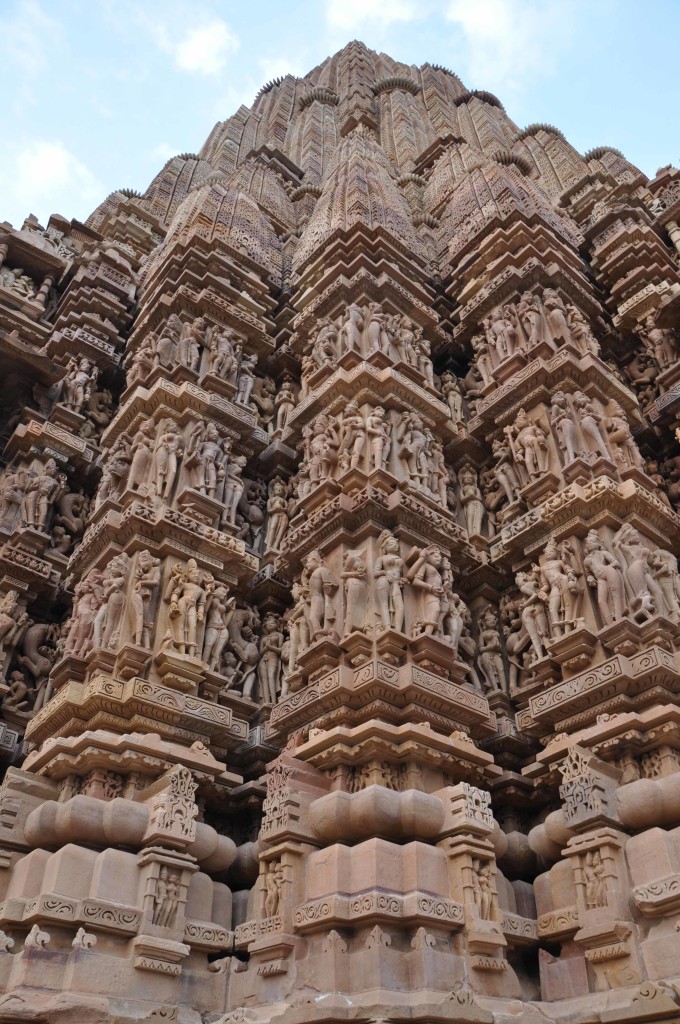 As well as the Western Hindu Temples, there is another site the smaller eastern Complex, which comprises the remains of Jain Temples with rather less sex and more current religous feelings than the others because of the (more recent) build up of practicing Jain Temples around it.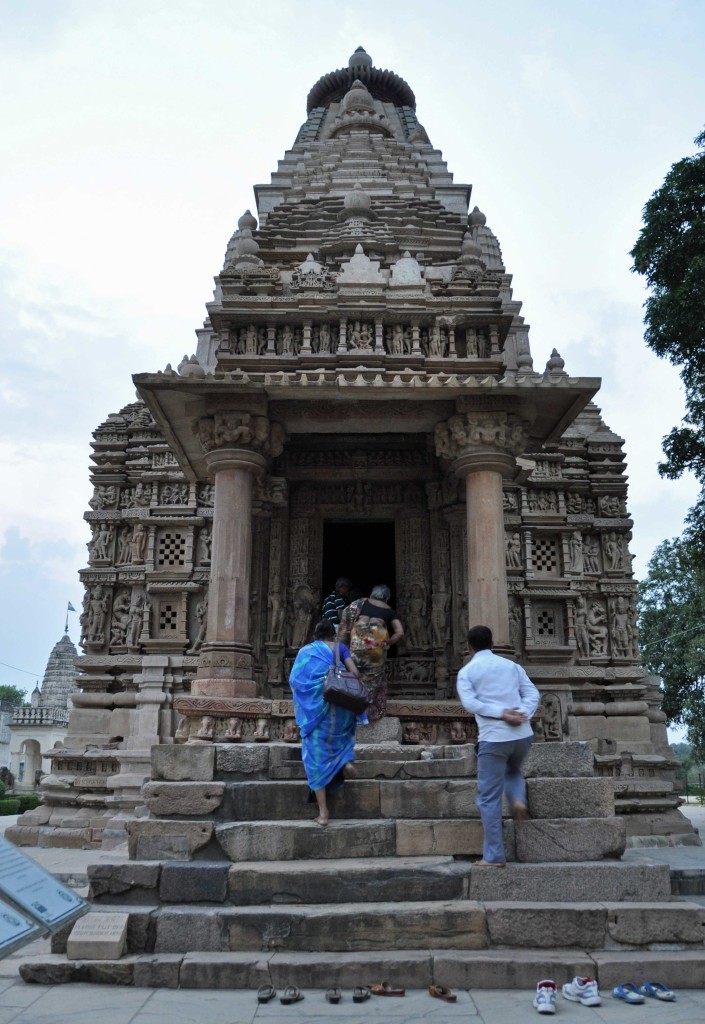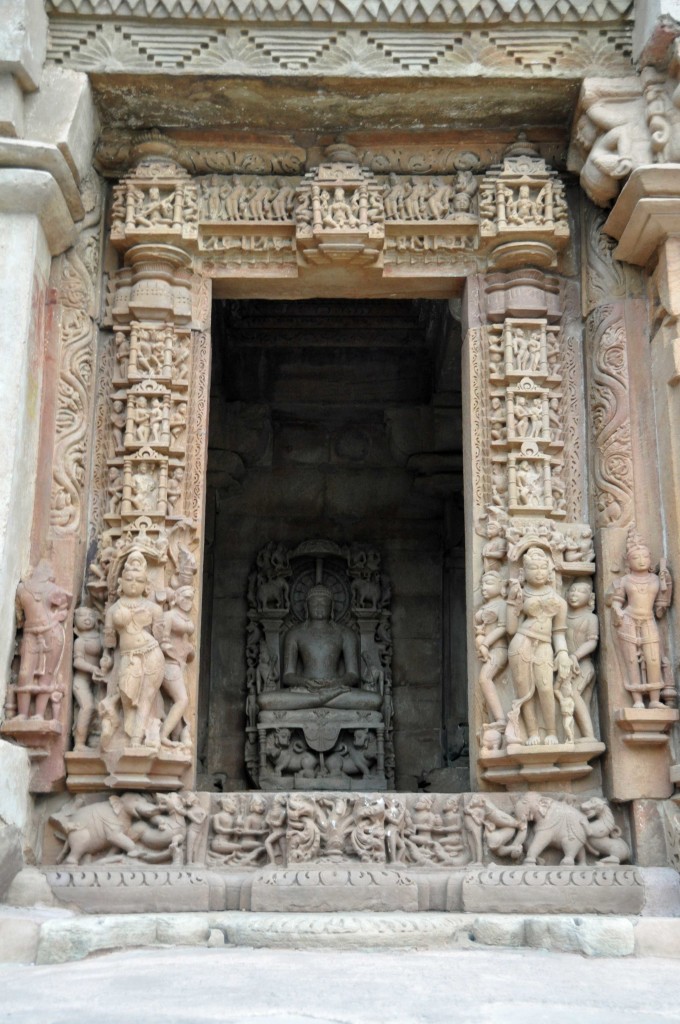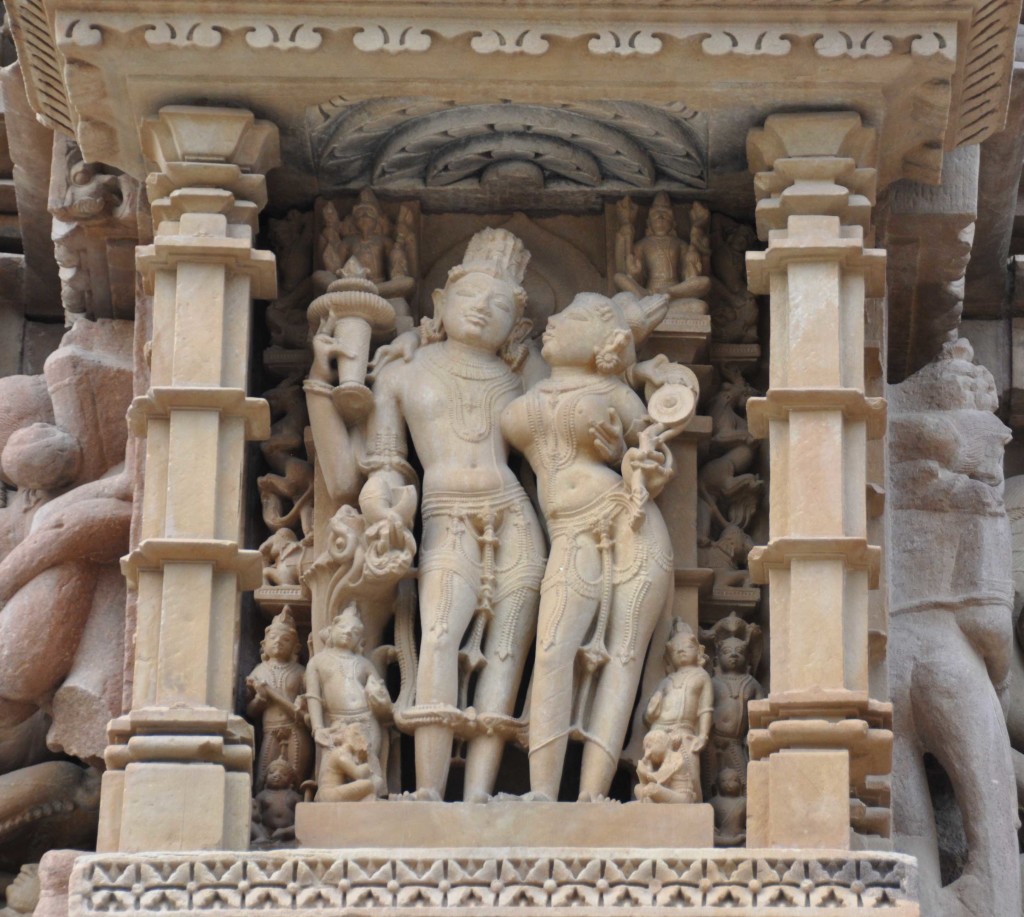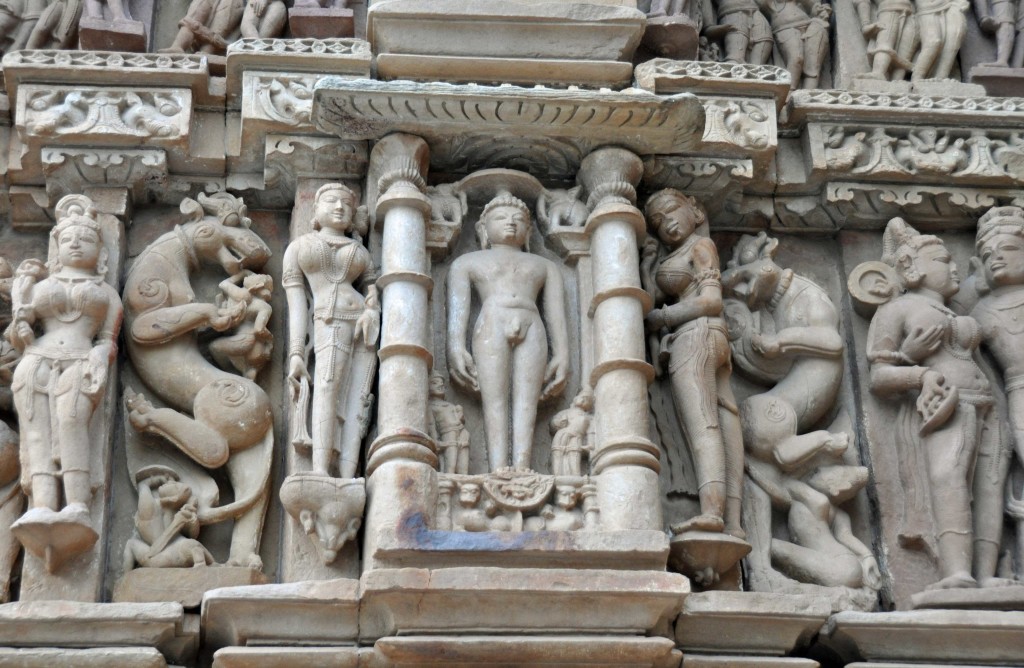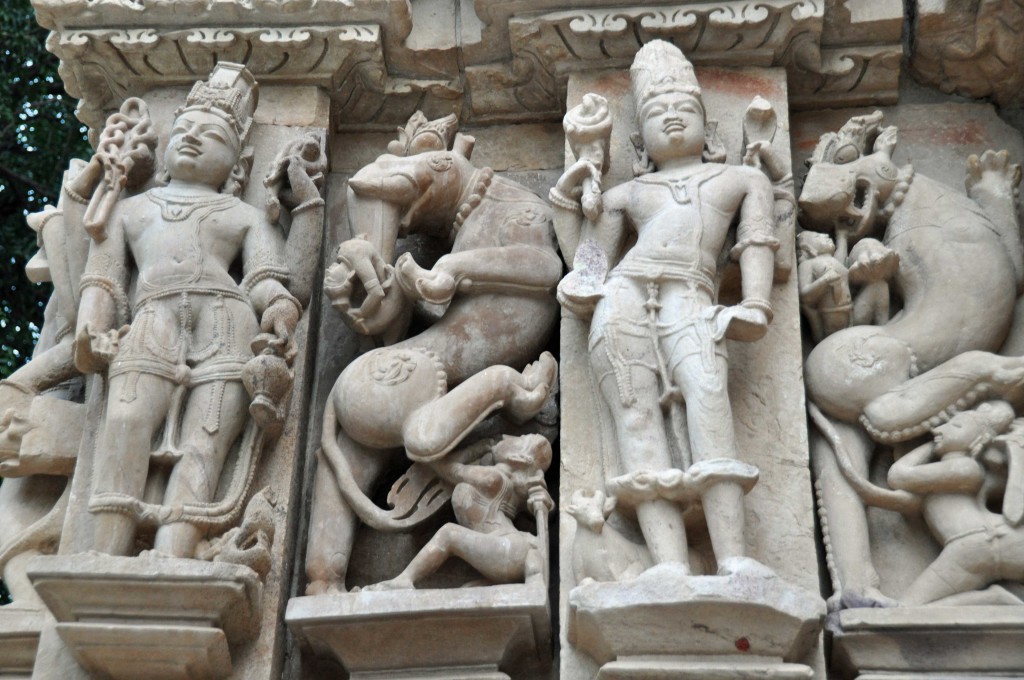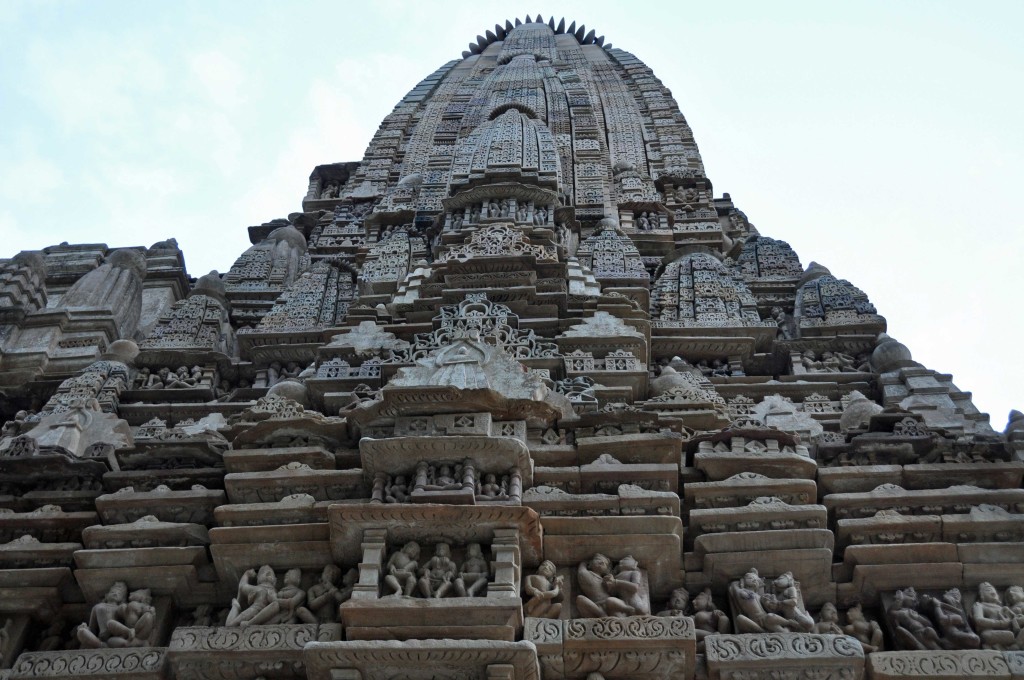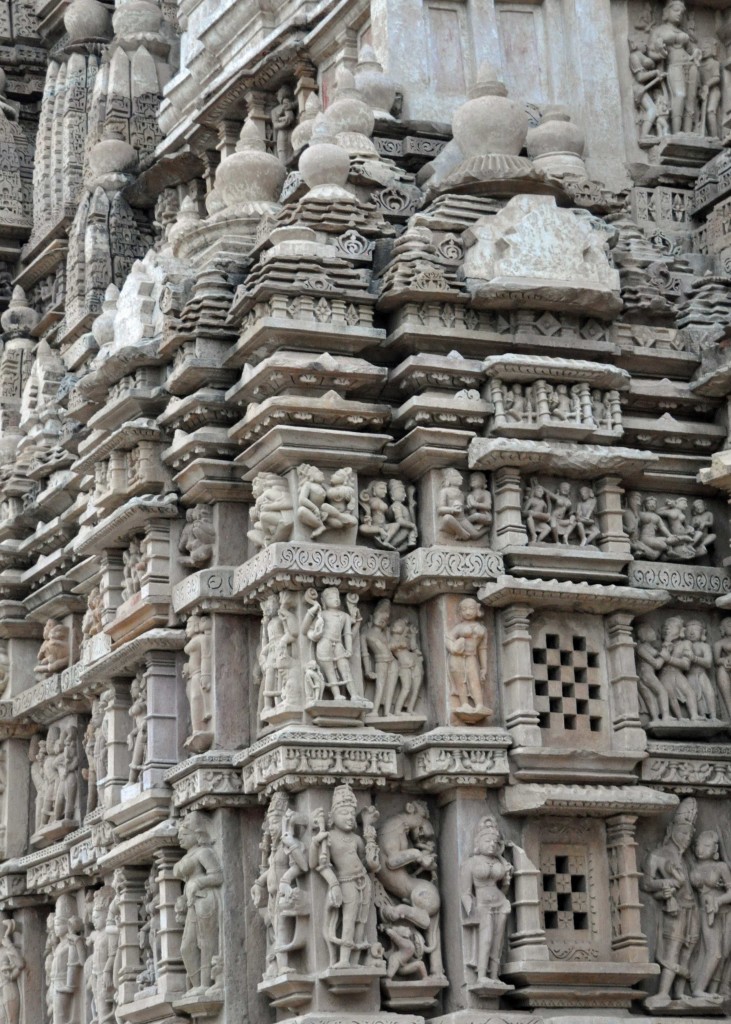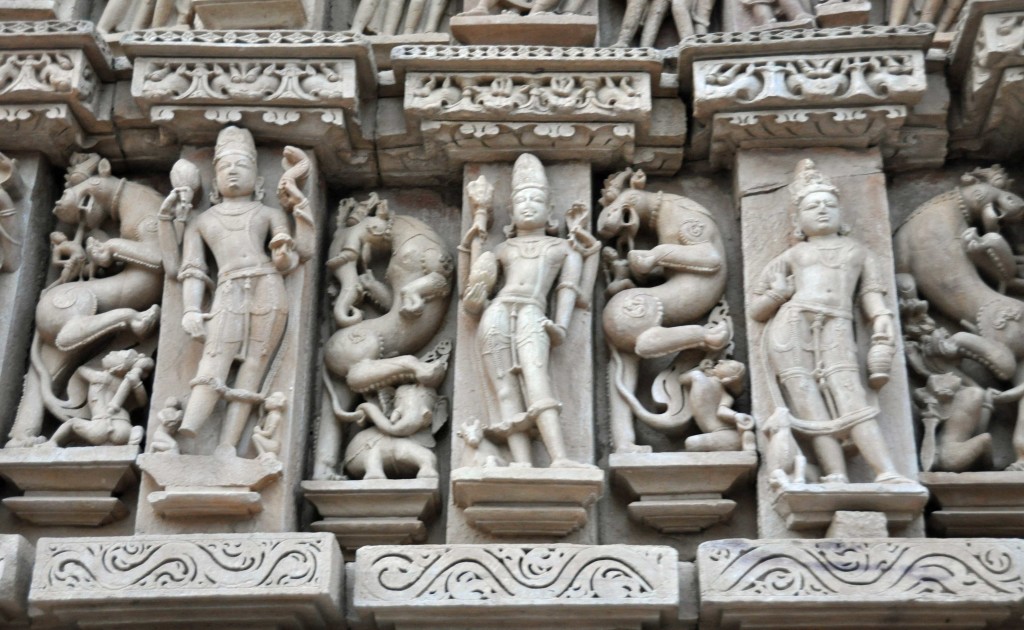 Perhaps only the naive, will imagine that these images could possibly shock a modern teenage, though we all passed by the horse screwing rather quickly. It turns out that NLondon liberal parents and their children have their limits as to what they want to share…