There have been two big and frustrating projects in my small suburb garden: building a gravel garden on top of my flat roofed garage and trying to build a woodland garden in the black hole at the back.
The gravel garden has probably been the more successful.
It is built on the flat roof of a 1960s concrete garage running east-west, in full sun for most of the day, very dry but somewhat sheltered from wind by the houses and nearby trees.
Since my garage abuts the neighbours identical garage, I have a very clear idea of before and after.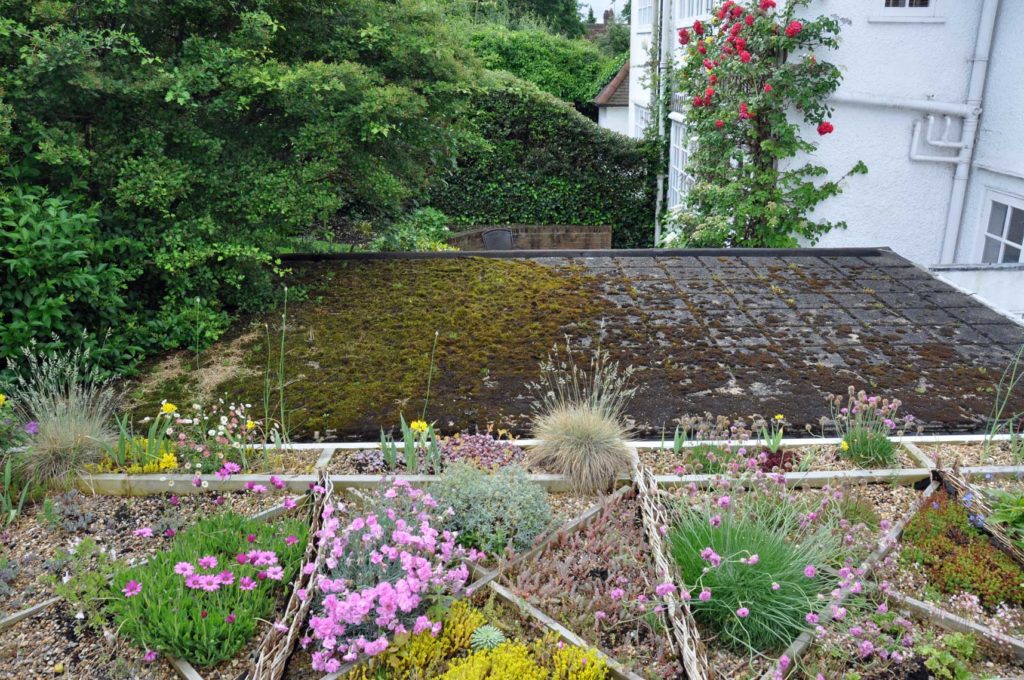 Greening the roof was surprisingly easy with any number of sites providing advice. First I had to clear the roof of moss and detritus. To protect the building underneath, you need to create a waterproof layer which meant buying and laying a butyl pond liner. On top of that, I put down root membrane to prevent the plants growing down into the roof itself.
Then you need to create a boundary, something to hold in the growing medium. Initially I used simple wicker "hurdles" that would normally be used to create a raised bed. Over time these have been replaced or extended with wooden planks. Since I've decided that the roof is a long term feature, I'll replace the wooden boundary with bricks when needed.
The growing medium I used was roughly one part compost, one part pea shingle (gravel) and one part perlite. The latter helps keep the mix lighter.
Having built a garden, I decided to plant it up with a whole range of alpines rather than simple sedums. It means that there's slightly more work managing the plants since some of them have turned out to be real thugs (ie. really really like gravel) whilst others are a bit more restrained and are in danger of being swamped.
The wicker and wooden boundaries have made for a parterre style of planting. Each triangle bed has been planted up with a different alpine, with the corner beds planted with sedums, cauticola and sexangulare.
In the drainage trough to the side of the roof, I have planted up zinc troughs with verbena bonariensis and erigeron or geraniums.
Having initially trawled the garden centres, I've ended up buying most of the alpines on-line from specialist nurseries. And because it is very much a planned garden, there is always something to look at, always something in-season.
As always, I started out with the idea of a controlled, restrained and elegant garden but ended up with an out of control, loose and lovely space. My problem is a fundamental inability to wait for plants to grow in, and a total commitment to cramming in more and more plants.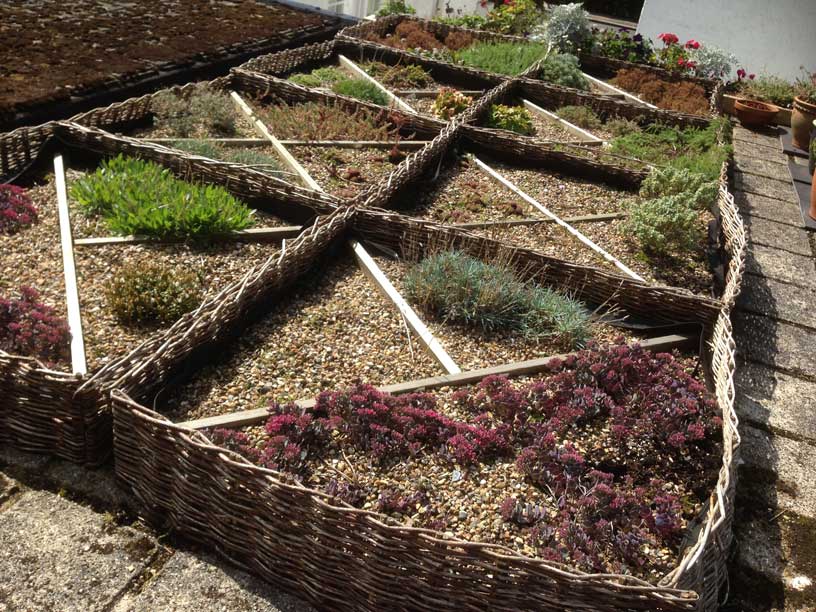 The initial central planting of 28 beds in wicker frames comprised the following plants running west to east: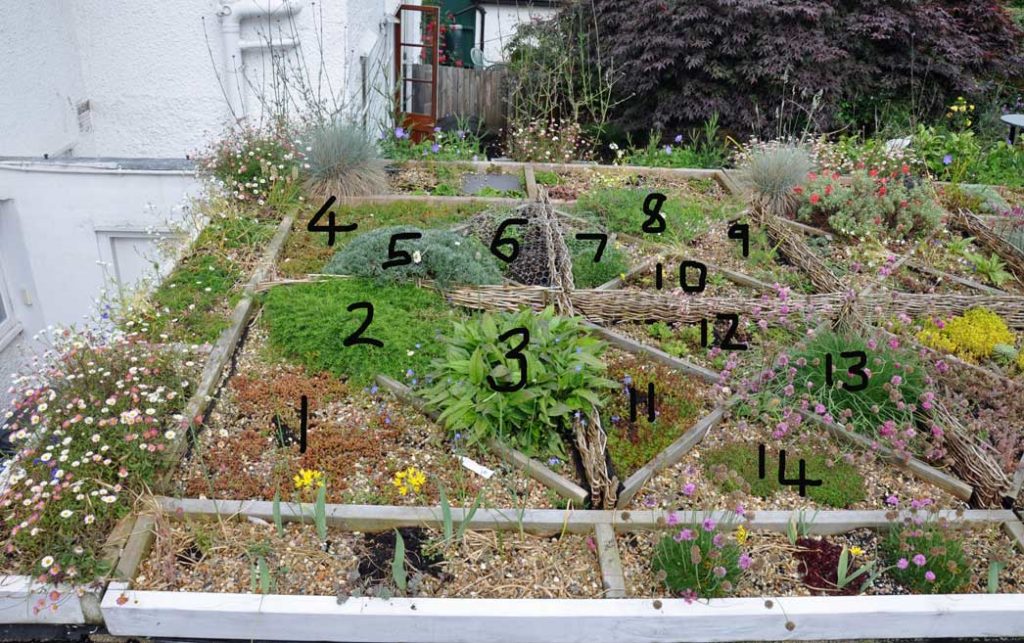 Sedum sexangulare (1&4)
Satureja spicata (2)
Omphalodes cappadocica 'Cherry Ingram' (3)
Rhodanthemum hosmariense (5)
Draba rigida var imbricata compacta  (6) now replaced with annuals
 Erysimum 'Parkwoods Gold' (7)
Aster ericoides prostrates (8)
Pulsatilla vulgaris (9)
Sempervivum 'Greyfriars (10)
Campanula x pulloides 'G.F. Wilson' (11) now replaced with saxifraga "garnet"
Sempervivum 'Jungle Fires' (12) now replaced with saxifraga urbium
Armeria maritima (13)
Arenaria purpurascens (14)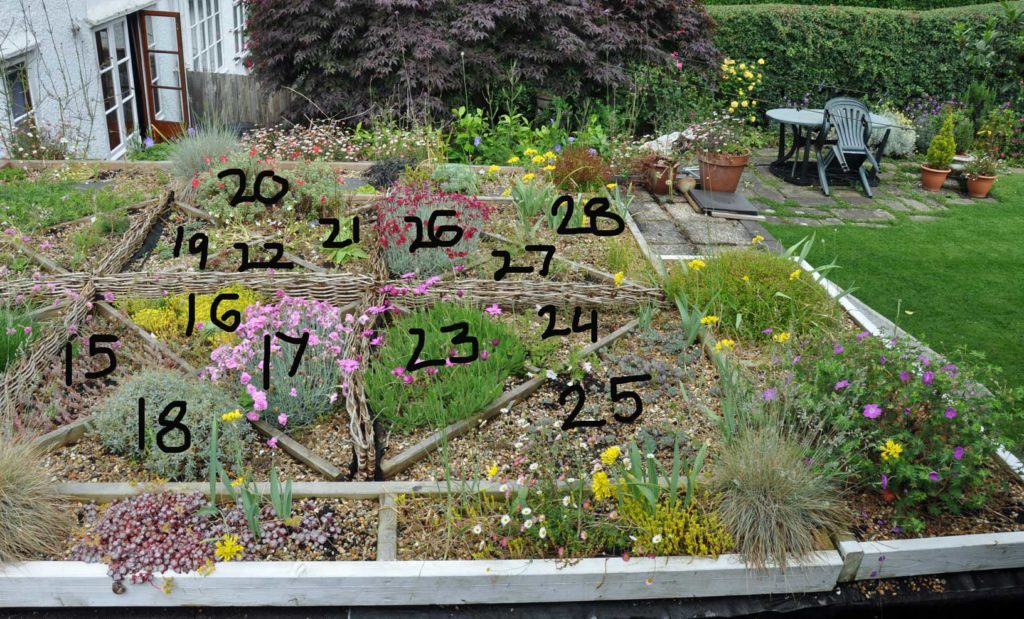 Erysimum 'Emms Variety' (15)  now replaced with sedum reflex 
Sempervivum 'Greyfriars (16) now replaced with sedum sexangulare
Dianthus 'Whatfield Cancan'(17)
Alyssum spinosum "rubrum" (18)
Oxalis enneaphylla 'Rosea' (19)
Helianthemum 'Beech Park Red' (20)
Dodecatheon pulchellum 'Red Wings' (21)
Sempervivum 'Jungle Fires'* (22)
Osteospermum 'Irish' (23)
Gentiana samosa (24) now replaced by aethionema  "Warley Rose
Sedum cauticola (25 &28)
Dianthus 'Gold Dust' (26)
Leucojum autumnal (27)
Plants that failed to thrive were replaced. The sempervivum houseleeks were just incredibly slow growing so having been planted in four central beds originally, (10, 12, 16 & 22) were taken out and concentrated in bed 22. The freed up space was then planted up with sedum sexangulare that was growing naturally on the bare roof.
Gentian samosa was fine for a couple of years but has recently started to struggle. I've added aethionema to fill out the bed.
Similarly the draba was fine until a very cold damp Winter when it faded away. This bed has also had to cope with cat scratting so is currently under wire for protection until the lobelia grow large enough to be discouraging.
Some plants that took over had to be taken out such as the campanula (11).
Some thug plants are fine because they grow in a nice bushy form so can just be cut back.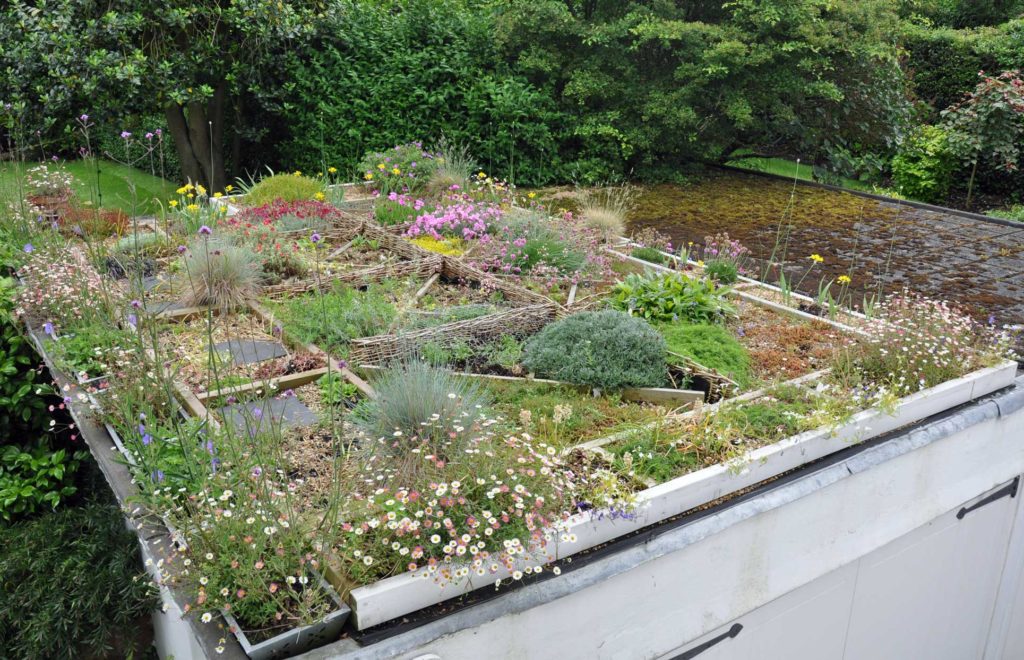 Once the central beds were established, we added extra beds around the edge gradually covering more and more of the roof.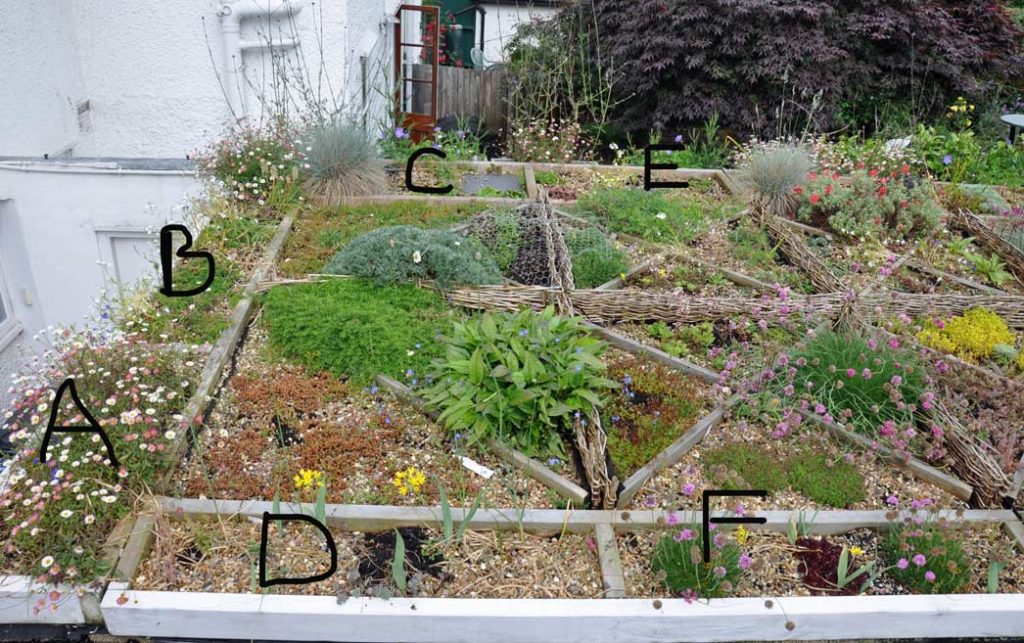 At the west front of the garage the outer beds are planted up as follows:
Erigeron karvinskianus (Mexican Fleabane) (A)
Satureja spicata , Erigeron karvinskianus (B)
Festuca, primulas, cyclamen (C)
Sedum cauticola (D)
Lithodora diffusa (E)
Armeria marittima (F)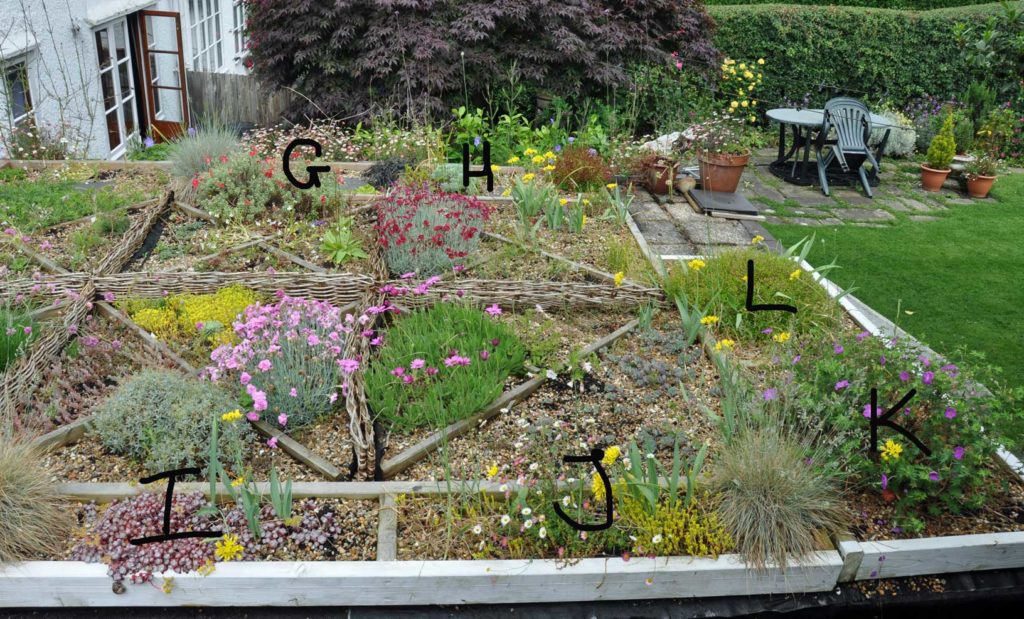 And to the east, the outer beds are planted with:
Ophiopogon planiscapus "nigrescens" and artemisia (G)
Saxifraga "garnet" (H)
Festuca, Sedum Spathulifolium (I)
Sedum sexangulare, Erigeron, Festuca (J)
Geranium (K)
Phlox (L)
Plants which are spreading everywhere include the Erigeron which may well takeover if I'm not careful. The satureja is also starting to colonise all of the nearby beds. The armeria (thrift) is starting to pop up in any number of beds, especially those where the plants are early or late flowering. the clumps of dianthus and osteospermum seem to be able to hold their own, and I'm hopeful that though slower growing, the alyssum and helianthus will be able to repulse all invaders.It feels a little bit like a battlefield with the various plants jostling their way across the gravel.
Planting up from nothing has been huge fun and I'm still left with one corner still to be boxed up and planted.