The most obvious recipes are sometimes the most tricky to find. This recipe for basic British pancakes is based on the Good Housekeeping recipe Book that I've carried around with me since university. It always works though sometimes the first pancake is a write off because I'm too impatient to wait for the pan to heat up.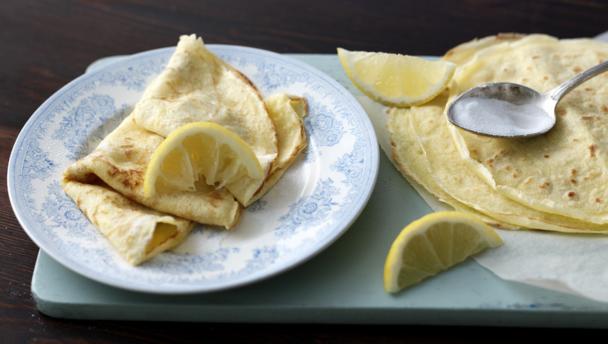 125g plain flour, pinch of salt
2 eggs, beaten
250ml milk
oil to fry, sugar and lemon to serve
Sift the flour and salt into a bowl. Add the beaten egg and beat into the flour with a wooden spoon before gradually beating in the milk.
Heat the oil in a frying pan ubtil hot, pouring off any surplus.
Pour in enough batter to coat the base of the pan for 1-2 minutes, turn or toss to cook the other side.
Transfer the pancake to a plate, sandwich with greaseproof paper and proceed with next pancake.
As soon as all are cooked, sprinkle with sugar and serve.
For a change, you can try the fluffy thick American pancakes recipe shown below.
225g plain flour, pinch of salt, 1 tbsp baking powder, 1tsp sugar
2 eggs, beaten
300ml milk
30g melted butter
oil to fry, maple syrup, blueberries, bananas etc to serve
It's easiest to just blitz everything together in a food processor. Food purists can sift together the dry ingredients before beating in the wet. You can leave it to rest for 20 minutes or so before using.
Add the oil to the pan and when hot fry your first pancake – it will only take a minute or so before you need to flip.
Collect and stack on a plate in a warm oven.