Ingredients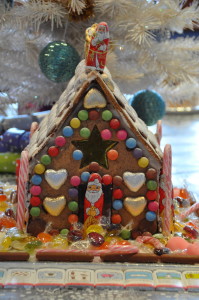 3tbsp golden syrup or honey
175g butter
175 g caster sugar
3 medium egg yolks
700g plain flour
2 teaspoons vanilla extract
1 ½ tsp bicarbonate of soda
2 tsp ground ginger
1 tsp mixed spice
1 ½ tsp bicarbonate of soda
2 tsp ground ginger
1 tbsp cocoa powder
9-10 tbsp milk
Decoration:
Boiled sweets for "glass" windows and door
Chocolate fingers or similar for roof joint
Icing sugar, cocoa & hot water
Lots and lots of sweets
1 Oil baking sheets. Pre-heat the oven to 180C.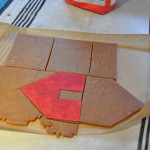 2. Make templates (see pictures) as follows:
side wall pieces 1&2: rectangles 18cmx10cm
front & back wall pieces 3&4: pentagons 18cmx22cm highx16.5cm to peak
roof pieces 5&6: 16.5cmx20cm
Cut out a door for the front wall with 1 window above. Cut out a window for each side wall and 3 windows for the back wall.
3.Melt the syrup. Cream together the butter and sugar in a food processor until light and fluffy then beat in the egg yolks one at a time. Sift in the flour, soda, spices and cocoa and mix briefly. Add the syrup and enough milk to make a soft but not sticky dough.
4. Divide the mixture into 2 halves. Roll out on a floured surface to a thickness of about 5mm, walls first, roof last. Rolling out onto greaseproof paper and then moving the paper with the shape is easiest. Fill the windows and door with crushed boiled sweets.
5. Bake for 15 minutes and allow to cool. If necessary trim the shapes while still warm. Leave overnight to cool and harden.
6. Make some chocolate icing with icing sugar, cocoa and a small amount of hot water. Use this to glue together the walls. Prop the walls up with tins and then glue on the roof. If there is a gap between the roof pieces use chocolate fingers or similar to fill the gap. Leave to set overnight.
7. The house should be firm to touch before decorating. For a tasteful look, use an icing bag and royal icing. For a more child friendly house, use icing as glue, cram as many sweets as possible onto the house. Chocolate buttons make good roof tiles. Smarties make good decorative streamers around the walls of the house. Chocolate figures (santa, reindeer etc) are good at the door and windows of the house. Everyone likes candy mice on the roof.